Only an hour after it was announced on Facebook, thousands of people had already signalled their interest in protesting against the reported upcoming visit to the UK in February of Donald Trump.
The US president is reportedly planning to come to the country at the end of February, after an earlier invitation for a full state visit was watered down. Even without plans for a meeting with the Queen, and its description as only a "working visit", opponents of Trump are already planning a full-throated protest.
The Sunday Times said he was going to open the new US embassy in London on 26 and 27 February leading the Stop Trump campaign to say it hoped to organise the "biggest demonstration in British history" for the visit.
It also wants to carry out a citizen's arrest on the US leader for incitement to racial hatred.
"If Donald Trump attempts to sneak into the UK to open the US Embassy on 26/27th February 2018 and also pop into see Theresa May at Downing Street, he will be met by a million of us attempting a citizen's arrest of him for incitement to racial hatred," said the campaign, which was co-created by journalist and author Owen Jones.
The Stop Trump campaign organisers said more than a million people could take to the streets to protest the visit, the most seen on the streets since the action against the Iraq war in 2003.
In the last few days, Trump sparked further controversy when he re-tweeted videos posted by Britain First leader Jayda Fransen, claiming to show a Muslim attacking a man in the Netherlands. The videos have been reported as fake.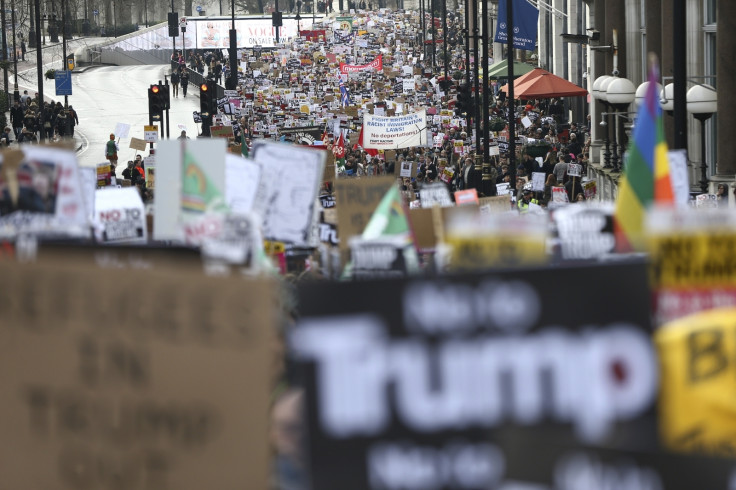 Separately, Trump caused more furore on Twitter on Sunday saying that its reputation was "in tatters" as he denied again that he had asked its ex-director James Comey to drop an investigation into Michael Flynn.
It comes after reports that special counsel Robert Mueller had sacked an FBI officer from a probe into claims of Russian interference in the US election who had made anti-Trump comments in text messages.