A recent report by air safety body Airprox UK notes that a flying quadcopter was deliberately flown too close to a 74-person capacity AT72 aircraft coming in to land at Southend airport, Essex.
The report states that the plane's pilot reported to air traffic controllers that a black and red unmanned aerial vehicle (UAV) was flying within 25m (82ft) of the plane during the flight's descent phase into Southend Airport on 30 May, 2014.
The plane's co-pilot later told the UK Airprox investigation that he had "formed the impression that the quadcopter had been flown deliberately close" to the aircraft's right wing-tip.
After seeing the drone flying on the right side of the plane, the co-pilot said that the UAV then "made a turn to fly in the opposite direction to his aircraft, around 25m away and at the same level".
The air traffic controllers responded that "a couple" of flying drones had been previously spotted in the same area of airspace, but the police were unable to locate either the drone or its operators.
The UK Airprox Board concluded its investigation saying: "The board were content that the AT72 pilot had clearly seen the quadcopter but, unfortunately, there was too little information available to make a meaningful analysis of the occurrence or to accurately assess the risk.
"Members were disappointed that someone would fly a quadcopter so high on the extended approach path to an airport, and that no had come forward to help with the analysis.
"It was unanimously agreed by the Board that the cause of the Airprox was that the quadcopter was flown close enough to the ATR72 to cause its pilot concern; because there was too little information to assess the degree of risk accurately, it was graded as D."
On 27 October, the House of Lords committee will be investigating the civilian use of flying drones and will hear evidence from drone operators and developers, as well as aerospace bodies.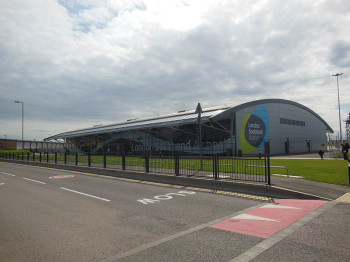 One of the bodies, the British Airline Pilots Association (BALPA), wants tougher regulations to be put in place for the civilian use of UAVs, including ensuring that any remote-controlled aircraft that share the same airspace as passenger and freight aircraft must meet the same standards as piloted aircraft.
In the UK, small unmanned aircraft may be flown, but only if the drone does not fly into airspace, over or within 150m of a congested area, or an open-air assembly of over 1,000 people.
However, people who want to use drones for a commercial purpose must seek permission from the Civil Aviation Authority.
Article 138 of the Air Navigation Order states that "a person must not recklessly or negligently cause or permit an aircraft to endanger any person or property".