Drunk tourist climbs, breaks 150-year-old statue in Belgium just a day after reopening
The incident took place outside the Brussels Stock Exchange building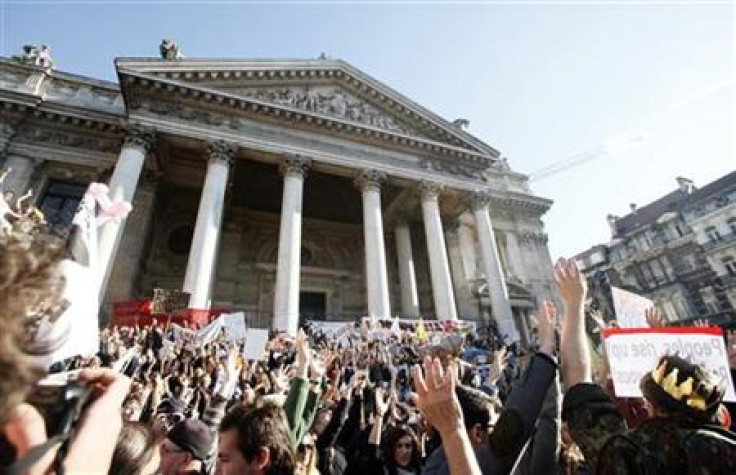 A drunk tourist climbed on a historic statue in Brussels to take a picture and caused damages worth thousands of euros.
An Irish tourist in Belgium has been arrested for causing a whopping £14,500 (€17,000) worth of damage to a recently restored statue outside the Brussels Stock Exchange.
The statue, "The hand with a torch", had reopened just one day before the incident after being shut to the public for three long years for restoration. The revamp work for the 150-year-old statue cost around €90 million.
The exterior of the Brussels Stock Exchange, also called the Bourse/Beurs, is decked out with several beautiful statues that were created in the late 19th century by Brussels sculptor Joseph Jacquet and French artist Auguste Rodin.
The statues include two lion figures that guard the entrance to the stock exchange. The drunk tourist damaged one of those lion sculptures. The statue that was wrecked depicted a lion and a man holding a torch.
A video of the incident has gone viral on social media. The footage clearly shows the man climbing on the statue but when he tries to descend, he loses his footing slightly and breaks a piece of the sculpture off.
Shortly later, the cops were notified about the incident and they soon found and arrested the man in a restaurant. The tourist must now reportedly cover the cost of the restoration of the lion, a staggering €17,600.
"On Sunday evening, an Irish tourist in a merry mood wanted to climb onto the lion in front of the Brussels Stock Exchange building. The repairs are going to cost a lot of money because the work will have to be done by real craftsmen. It is listed heritage and there will be follow-up from the monuments and landscapes agency of the Brussels region", project manager Nel Vandevennet of the renovated stock exchange building said.
The project manager went on to add that while they would like to wrap up the repair work as quickly as possible, it would certainly take a few weeks or even months.
"The whole building has only just been restored to its former glory, including the two lions which were in a bad way. We thought the sculptures would enjoy greater respect. We just think it's very sad this happened", the project manager said.
The Brussels Stock Exchange was founded by decree of Napoleon Bonaparte in 1801, though the building wasn't established until 1873, designed by architect Léon Suys.
© Copyright IBTimes 2023. All rights reserved.