The Democratic Unionist Party have agreed in principle a deal to support a Conservative government, it has been announced.
Downing Street confirmed that an outline agreement on a 'confidence and supply' arrangement had been reached whereby the DUP will offer support on key issues such as the budget.
The deal will be discussed at a cabinet meeting on Monday Sky News reports.
Confirming the news a No 10 spokesman said: "We welcome this commitment, which can provide the stability and certainty the whole country requires as we embark on Brexit and beyond."
Founded in the seventies by the late Ian Paisley, the DUP won 10 seats in the general election while Theresa May was eight seats short of a majority.
The announcement has prompted strong reaction with Liberal Democrat leader Tim Farron calling on Mrs May to make the details of the deal public "immediately".
"The actions of this government will have profound implications for the Brexit negotiations and the future of our country," he said.
"At such a critical time, the prime minister must be clear with the people about the deal she has stitched up with the DUP behind closed doors."
Labour leader Jeremy Corbyn told the Sunday Mirror he will do all he can to prevent the Conservatives forming a government "all the way".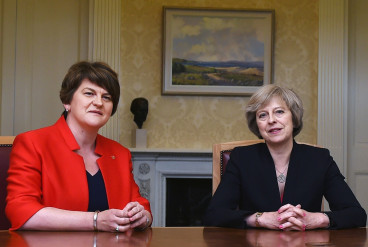 He said: "I can still be prime minister. This is still on. Absolutely. Theresa May has been to the palace. She's now attempting to form a government. She's then got to present a programme to Parliament.
"There's a possibility of voting the Queen's Speech down and we're going to push that all the way."
Sinn Féin's northern leader Michelle O'Neill said the new arrangement will 'end in tears'.
"They have achieved little propping up Tory governments in the past and put their own interests before those of the people," she said. "This new arrangement between the DUP and the Tories will be transitory and will end in tears."
Any agreement would come into force when Parliament returns next week.
Earlier Theresa May confirmed that she will remain as prime minister and lead a government with the assistance of the DUP. Commentators on social media accused the PM of "denial" after her refusal to resign.