UK Prime Minister Theresa May should "look again" at her plan to split from the EU after the Conservatives failed to secure a majority at the general election, Ruth Davidson said on Saturday 10 June.
The leader of the Scottish Tories, who campaigned for Remain at the EU referendum, made the intervention after her credibility was boosted by the 8 June vote, with the Conservatives winning 12 extra seats north of the border.
"I think what's really clear is that the Conservative party, having failed to win a majority, now needs to work with others," she told BBC Scotland.
"And that means we can look again at what it is we hope to achieve as we leave the European Union – and I want to be involved in those discussions."
Davidson, who is gay, has also asked May for assurances over LGBTI rights because of the Conservatives' alliance with the socially conservative Democratic Unionist Party (DUP) in Northern Ireland.
Elsewhere, Davidson, who has a seat at the Scottish Parliament, rejected reports that she was planning a breakaway from the rest of the Conservative Party.
"I am delighted that we are going to be able to send 13 Scottish Conservative MPs to Westminster," she said in statement.
"They come from a host of different backgrounds and will bring real experience, enthusiasm and a passion for their local communities to the job.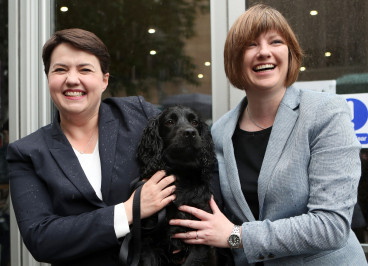 "This team will aim to stand up for Scotland's interests – and to show that those interests are best served by being part of the UK.
"We will aim to deliver, not divide – and to show how the Union can work for all of us."
The comments come as the election fallout continues, with Nick Timothy and Fiona Hill quitting as chief-of-staffs to May just over a week before the Brexit negotiations begin.
The prime minister has promised to a seek a bespoke customs deal between the UK and EU so that Britain can broker its own free-trade-agreements and May has said her government will not maintain full access to the bloc's single-market in a bid to end free movement of people.
Chancellor Angela Merkel has urged May to press on with the two-year-long talks, while Guy Verhofstadt, the chief Brexit negotiator for the EU Parliament, described May's decision to hold the snap election as an "own goal".
"It will make already complex negotiations even more complicated," the former prime minister of Belgium warned.