A Dutch photojournalist was shot dead by an Islamic State sniper in the city of Sirte, the jihadists' last bastion in Libya. Jeroen Oerlemans, 45, was killed while accompanying mine-clearing teams in the part of the city that has been freed from IS control, according to fellow journalist Joanie de Rijke, who was reporting with him for the Belgian publication Knack.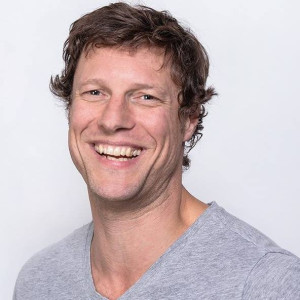 The father-of-three had been wearing a bulletproof vest and helmet, "so he was protected," and was clearly identifiable as a journalist, said de Rijke. "But it doesn't matter to IS, of course. They shoot at everything and everybody." Oerlemans was hit in the side, in an opening in the vest, and the shot reached his heart, de Rijke said after seeing her colleague's body in the morgue. She said it was unclear whether he was targeted or whether it was an accidental hit, since there were crowds of people crossing back and forth at the same time.
Oerlemans studied photojournalism at the London College of Communication and had covered wars in Afghanistan, Syria and Libya and the journey of migrants to Europe. He was abducted and wounded in Syria in 2012 with British photographer John Cantlie, and freed a week later. Cantlie was later abducted again, and is believed to remain in captivity.
Foreign Minister Bert Koenders said in a statement that "Oerlemans is a journalist who kept going where others stopped. Driven to put the news into pictures in the world's hotspots. It is profoundly sad that he has now paid the ultimate price for this."
Oerlemans is survived by his wife and three small children, according to Eike den Hertog of the Beeldunie photo agency.
Oerlemans is the third journalist to be killed in Libya this year, according to the Committee to Protect Journalists. "The death of Jeroen Oerlemans is a reminder that those who bring us images and video from the frontlines often pay the heaviest price," CPJ deputy executive director Robert Mahoney said in a statement.
Forces dominated by fighters from Misrata and aligned with Libya's UN-backed government have been battling to capture Sirte for more than four months. Supported by US air strikes since August, they have taken control of most of the city and have been besieging militants trapped in a thin residential strip near Sirte's seafront for several weeks.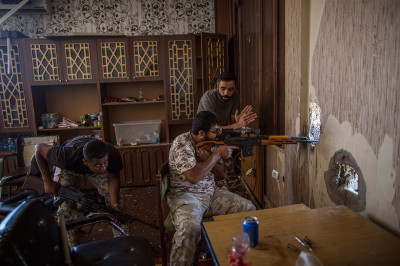 Their advance has been slowed by Islamic State snipers, improvised explosive devices and suicide bombings in close-quarter street battles. Occasional ground attacks are interspersed by rest periods that allow fighters to regroup and hospitals to clear casualties. Militants have staged several attacks including suicide bombings from behind the front lines in Sirte, adding to fears that militants who are thought to have escaped in the early stages of the battle might have regrouped to launch counter attacks.
Libyan forces lost at least eight of their men after being ambushed by Islamic State militants who had apparently arrived from the desert, in the latest sign of an enduring jihadist threat beyond the battle lines. Pro-government forces were held up for several hours by sniper fire as they tried to advance across an open area of approximately 100m, before the sniper positions were eventually demolished.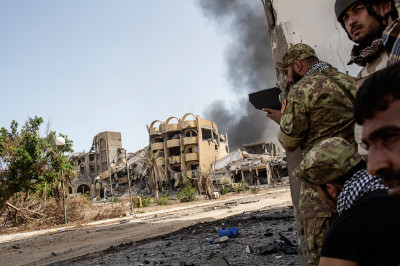 A field hospital casualty list names eight fighters from the government-backed forces who were killed. A spokesperson for the Libyan forces Rida Issa said several dozen bodies of Islamic State militants had been counted. The report could not be independently verified.