Libyan government forces are continuing to battle Islamic State (Isis/Daesh) militants in Sirte. Reuters photojournalist Goran Tomasevic has been accompanying the fighters as they advance towards the centre of the city. His latest photos show them using a Soviet-made tank to bombard IS positions from a beach on the Mediterranean coast.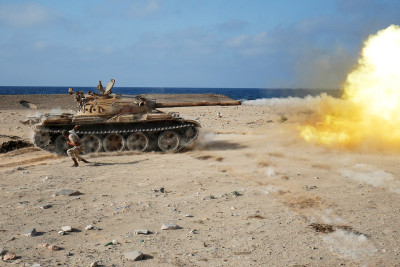 Libyan commanders say a few hundred Islamic State fighters are now encircled in the centre of Sirte, though they have retained control of four neighbourhoods.
US air strikes are helping in the fight to clear Islamic State from the militant group's North African stronghold. Libya's UN-backed government requested the strikes nearly three months into a campaign that had slowed because of heavy casualties from sniper fire, mines and mortars.
The Pentagon said the first targets of the strikes included tanks, construction and military vehicles and a rocket launcher. The strikes were carried out by Marine Corps AV-8B Harriers from the USS Wasp, an assault ship located in the Mediterranean Sea, and by armed drones piloted from Jordan. In addition, intelligence-gathering drone flights were being operated from Sigonella air base in Sicily.
Sirte, on Libya's Mediterranean coast about halfway between Tripoli and Benghazi, has been controlled by Islamic State since February 2015, becoming its most important base outside Syria and Iraq, and its loss would be a major setback for the group. They are already under pressure from US-backed campaigns in both Syria and Iraq.