Philippines President Rodrigo Duterte has declared martial law in Mindanao in southern Philippines after fierce clashes between government troops and an Islamic State group-linked militants, the Maute group in Marawi City.
The president, who is currently in Moscow on an official visit to Russia has decided to cut the trip short and return to Manila.
He has placed all of the southern region of Mindanao, which makes up roughly one third of the country under martial law, spokesman Ernesto Abella said in the nationally televised statement. The region is home to 20 million people, AFP reports.
Martial law will be in force for 60 days, in line with constitutional limits on the use of military rule. The news agency said martial law is a "particularly sensitive" issue in the Philippines. It was used by its former leader Ferdinand Marcos to remain in power during his two-decade reign. He was finally deposed in 1986 through a People Power revolution.
Duterte met with Russian President Vladimir Putin late Tuesday (23 May) before his return to explain his sudden departure, AFP said.
"Units of the Islamic State Group are occupying a province and there are clashes, a military operation is still ongoing. Unfortunately I must go there now, " he said.
Foreign Secretary Alan Peter Cayetano, who had accompanied Duterte to Moscow however will stay on to sign several agreements.
Cayetano said that Duterte "feels that he is needed in Manila as soon as possible". Duterte will be arriving at the Ninoy Aquino International Airport at around 5pm local time on Wednesday (24 May).
Duterte was scheduled to be in Russia until 25 May, Manila Times reports.
The president had several times warned of imposing martial law to "finish all the problems" in the Philippines. Such a move, he had said, will not only help his war on illegal drugs but also the growing presence of Isis in southern Philippines.
Three security forces killed in clashes
Defence Secretary Delfin Lorenzana said that one policeman and two soldiers have been killed in the clashes, which started when security forces raided a house where Isnilon Hapilon, the leader of the Abu Sayyaf group was hiding.
Manila Times said Maute group members had hoisted Isis flags at a hospital and several other establishments, while AFP notes that social media posts showed pictures of gunmen walking through the streets of Marawi.
Lorenzana said that the gunmen had occupied a hospital, a prison and had burnt down buildings, including a Catholic Church.
Security forces were facing difficulties as snipers were hiding in buildings.
Who are the Maute group?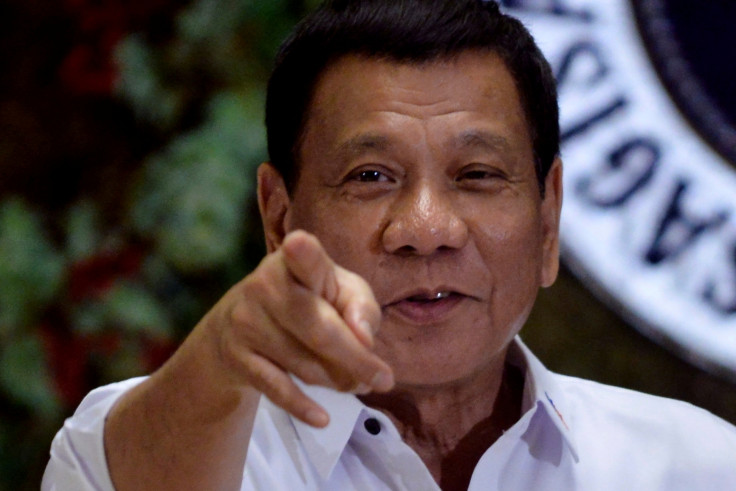 According to security analysts, the Maute group is based near Marawi and has professed allegiance to Isis. The group has been involved in repeated deadly battles with military forces over the past year in rural areas around Marawi.
Marawi City is known as the Philippines' Islamic City, Manila Times said.
Muslim groups have bee fighting a rebellion since the 1970s in an attempt to secure independence or an autonomous homeland in Mindanao.
Although the main Muslim rebel groups are involved in peace talks with the government, Abu Sayyaf, Maute and other hardline groups insist they want an Islamic caliphate in the south for Isis, security analysts say, reports AFP.
The move to impose martial law comes weeks after the US, the UK and Canada issued travel warnings and said that militant groups were planning to kidnap foreigners in tourist hotspots in western and central Philippines, adding to already existing advisories on Mindanao.