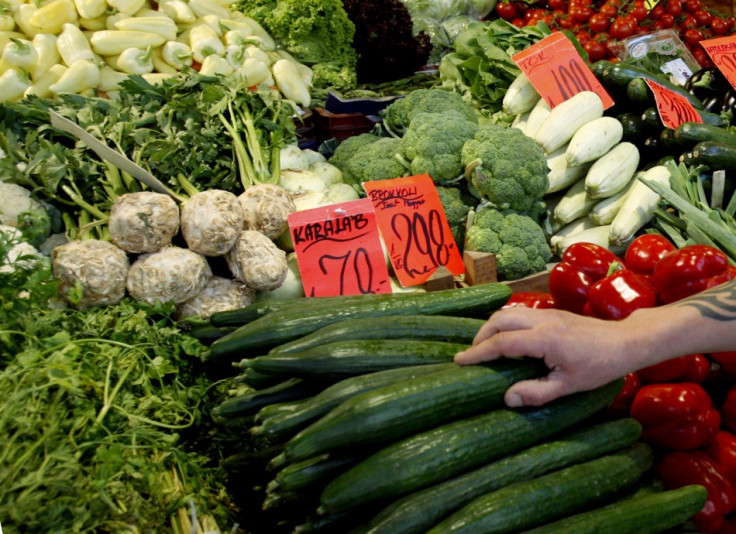 The deadly new strain of E.coli that has killed at least 17 people and left 1,500 ill across Europe has never been seen in a human population and it may be the most toxic yet, health experts said on Thursday.
The exact source of the outbreak has not yet been determined but the Food Standards Agency insists that no contaminated vegetables have reached the U.K.
Nonetheless, footage of Spanish cucumbers being destroyed has been enough to see demand for the vegetable slump - based on a less than scientific survey of the Tooting Broadway Tesco.
While we remain unsure of the outbreak's origin it is difficult to advise on what consumers should be wary of. In a piece of not-at-all-reassuring-reportage, the Guardian journalist Felicity Lawrence says that between 1992 and 2000, when bagged salads took off, nearly 6 per cent of food-poisoning outbreaks were associated with prepared vegetables and salads. In 1996 a study of retail samples of bagged salads found 13 per cent contained E.coli.
So should we forgo our five-a-day for the sake of our health? Probably not. The Health Protection Agency says that while small, localised outbreaks of E coli have been linked to fruits and vegetables, they are very rare.
Gad Frankel, professor of molecular pathogenesis at Imperial College London, says: "I don't think salads are particularly dangerous. The rate of infection is very low, so when it happens it really makes the news because it's so rare." Any increase in incidents, he says, may be due to the fact we now eat more salad as we seek to make our diets healthier.
While the experts say there is no need to worry, the FSA is advising people to wash vegetables that cannot be peeled or cooked. But is a quick splash enough? "The more you wash and soak, the greater the effect," says Wilcox. "When I was a kid, my gran would always soak the salad in salty water as it is somewhat antibacterial."
Vaughan is more cautious. "The most sensible way to wash vegetables at home is to use Milton Sterilising Fluid. You need to use a double sink method - one bowl with Milton diluted in water (as per the instructions), then put your fruit and vegetables in there for 20 minutes. Fill the other sink with tap water to wash off the chlorine. It leaves no taste and kills the bacteria."
Over on the family kitchen blog, Brooklyn Supper offers three bits of advice that should help reduce the risk of coming into contact with E.coli.
Go for Quality:
The main source of E. coli is animal, especially cattle, manure. Ground beef is the main culprit. But because we use manure to fertilize crops, E. coli can also make an appearance in leafy greens, watery vegetables like tomatoes or cucumbers, and sprouts. Finally, E. coli can show up in unpasteurized milk, apple juice, orange juice, or even water. Essentially,everything. The best course of action is to buy quality products from quality vendors who know the source of their meat and produce. Avoid bargain meats, especially those that come from multiple unknown sources. As for vegetables, it's also a good idea to try and buy single source varieties, such as buying heads of lettuce as opposed to the pre-packaged stuff.
Keep It Clean:
When preparing meat, be sure not to cross contaminate your work surfaces and knives, and clean as you go. Cook meat to recommended temperatures, especially if you have any doubts about the quality of the source. When working with fresh vegetables, wash them thoroughly, even prepackaged, pre-washed lettuces mixes.
Know Your Food:
Small batch, locally grown foods are much less likely to have E. coli contamination. Of course, there's no silver bullet, but buying local produce from farmers you know is a great option for safe food. Because of the poor conditions feedlot cattle are raised in, and the grain-based diet they are fed, industrial agriculture is the main culprit behind the E. coli in our food system. Buying small and local means you know where your food came from. As with the current outbreak in Europe, it can take weeks to trace the source of contamination, and because of our global food system, contaminated food could be widespread and incorporated into a variety of industrial food products by then. Whether it's meat or veggies, going local means you know your food.
Because so many of the things we consume come from industrial sources, there is no way to guarantee that you won't come into contact with this dangerous bacteria. But, with a few common sense steps, you can reduce your risk.