British Airways has suspended flights to and from Liberia and Sierra Leone until the end of August amid concerns over the Ebola outbreak, as the number of fatalities rises to 932 in West Africa.
The World Health Organization has confirmed that virtually all of the deaths have been in the three nations affected by the virus: Liberia, Nigeria and Sierra Leone.
Several cases involving foreign nationals have been confirmed, sparking fears that the virus will break through African borders to become a global epidemic as people are flown back to their respective countries for treatment.
This week, the first Spaniard confirmed to have been infected by the pathogen was Miguel Pajares, a 75-year-old priest who had been working as a missionary in Liberia. He is currently being flown to Madrid's Carlos III hospital.
But as the death toll rises, IBTimes UK examines whether we are putting ourselves at risk if we travel by air.
Can you catch Ebola on a plane?
According to several health experts, we should be vigilant about washing our hands if we travel - but it is unlikely that we can catch the virus by air travel.
Stephen Monroe, deputy director of the National Center for Emerging and Zoonotic Infectious Diseases at the US Centers for Disease Control and Prevention (CDC), told CNN: "It's very unlikely that they would be able to spread the disease to fellow passengers."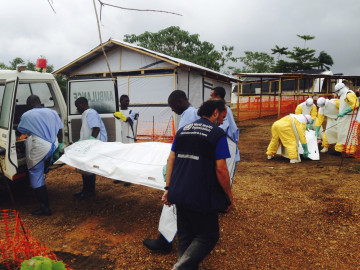 "The Ebola virus spreads through direct contact with the blood, secretions, or other body fluids of ill people, and indirect contact, for example with needles and other things that may be contaminated with these fluids," he added.
Monroe explained that most Ebola patients caught the virus by caring for or living with someone who was infected.
"This is not an airborne transmission," said Dr Marty Cetron, director of CDC's Division of Global Migration and Quarantine. "There needs to be direct contact frequently with body fluids or blood."
Professor Peter Piot, director of the London School of Hygiene and Tropical Medicine who discovered Ebola in the 1970s, told AFP that he was not worried about a major pandemic - even if an infected person flew to Europe or the US.
"Spreading in the population here, I'm not that worried about it," he said. "I wouldn't be worried to sit next to someone with Ebola virus on the Tube as long as they don't vomit on you or something. This is an infection that requires very close contact."
So how is Ebola spread?
The disease is spread between humans by direct contact with infected blood, bodily fluids or organs, or indirectly through contact with contaminated environments. Funerals of Ebola victims can pose a risk because of the burial processes.
The incubation period of Ebola can last between a couple of days and three weeks. Efforts are ongoing to create a vaccine, yet none exists to date.
What flights have been affected?
Nigeria-based airlines ASKY and Arik Air suspended flights at the end of July into Monrovia and Freetown, the capitals of Liberia and Sierra Leone.
ASKY said passengers departing from Conakry in Guinea would be screened for signs of the virus.
British Airways has now delayed all flights to and from Liberia and Sierra Leone for one month, but the airline has said it will continue to review the routes.