The Ebola outbreak has killed more than 3,800 people, according to the latest World Health Organisation figures.
The vast majority of those deaths have been in Guinea, Liberia and Sierra Leone.
But it is Liberia that has been hit the hardest, recording more than 2,200 deaths.
Getty Images photographer John Moore is in Liberia, documenting the toll that the disease is taking on the West African country.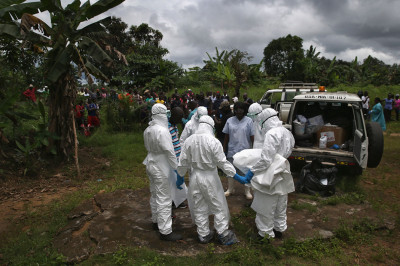 Global experts have issued stark warnings of the scale of West Africa's Ebola outbreak, with the US government estimating between 550,000 and 1.4 million people might be infected in the region by January. The US Centers for Disease Control and Prevention (CDC) said its projection was based on data from late August and did not take into account the US mission to fight the disease, so the upper end of the forecast was unlikely.
However, it followed research by experts from the World Health Organisation (WHO) and Imperial College, which estimated that 20,000 people risked infection within six weeks - months earlier than previous forecasts. It warned that the disease might become a permanent feature of life in West Africa.
Outbreaks in Nigeria and Senegal appear for now to have been contained. But nations across the region fear contagion and, against expert advice, have shuttered borders and restricted travel, complicating international efforts to fight the disease.
Antonio Vigilante, head of the UN Development Programme in Liberia, said Liberia had 350 to 400 beds for Ebola patients, but that fell far short of the 2,000 needed.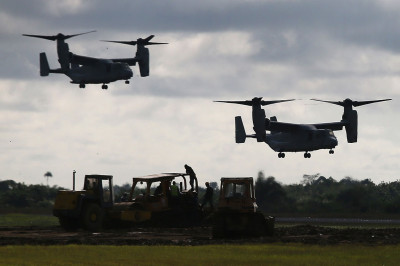 US military planes have arrived in the Ebola "hot zone" with more Marines to help Liberia in its desperate attempt to control the disease. The US military is working to build medical centres in Liberia and may send up to 4,000 soldiers to help with the Ebola crisis. Medical workers and beds for Ebola patients are sorely lacking.
Defence Secretary Michael Fallon said the UK would provide more than 750 troops to help build treatment centres and an Ebola "training academy" in Sierra Leone. Army medics and helicopters will provide direct support. Britain will also contribute an aviation support ship.
British troops are expected to arrive next week in Sierra Leone, where they will join military engineers and planners who have been there for nearly a month helping to construct medical centres.