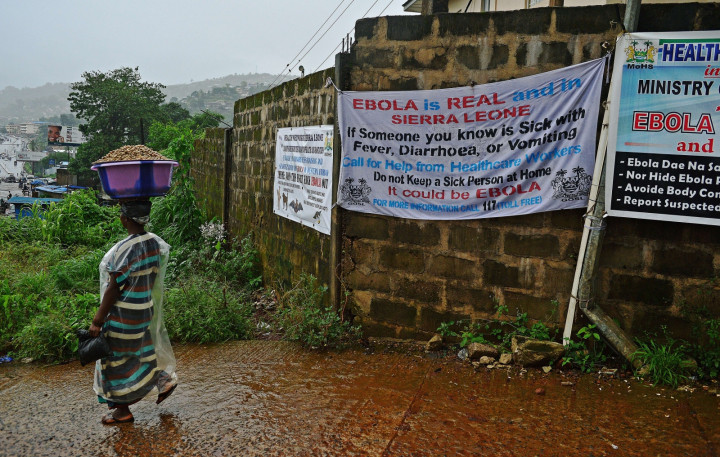 A shipping container filled with essential donated aid that could help save lives has been sitting unopened on a dock in Sierra Leone for two months because of 'bureaucracy and incompetence', it has been discovered.
There are 100 bags and boxes of protective suits, face masks, gloves, mattresses, hospital linens and other medical equipment which is in short supply in the Ebola-stricken West African state, donated from the United States.
Sierra Leone reported 121 deaths in a single day on Saturday 4 October, bringing the total death toll in the country to 678.
Over 3,400 people have been killed to date by the outbreak, the deadliest since the pathogen was discovered in 1976.
While the virus continues to spread, more than $140,000 (£87,000) worth of equipment remains unopened in a Freetown port. It was delivered on 9 August.
One government official wrote in an email to their superiors after the container arrived: "We are still just hoping – which sounds like begging – that this container should be cleared."
Other shipments of equipment have been stalled as a result, the Washington Post reported.
Chernoh Alpha Bah, an opposition politician against President Ernest Bai Koroma's All People's Congress party, organised the shipment of donated items from individuals and organisations in the US.
The shipping company agreed to send the container before receiving a payment of $6,500 (£4,000), as a gesture of goodwill. The payment has allegedly not yet been made by Sierra Leone.
Bah said he believed the equipment would be welcomed by authorities and that the shipping fee was a small price to pay, as the country has reportedly already received over $40m in international donations.
One foreign official working alongside the Sierra Leone government agency dealing with the Ebola outbreak said the situation in the country was "a mess".
Speaking on condition of anonymity, the official said nobody appeared to be in charge at the agency, known as the "emergency operations centre".
"It's the only body responsible. What is it doing?" said the official.
The news of the delayed aid comes amid criticism of a chaotic and inadequate response to the epidemic.
At the end of last month, head of the National Institute of Allergy and Infectious Diseases, Anthony Fauci, warned that a bigger response was needed to contain the virus.
"The community of nations – European nations, other developed countries that have resources to do it, the African Union – if they get involved in a very aggressive way to do infection control, we can put an end to this, I'm confident," he said, as reported by USA Today.
"But if we have a lot of motion but no action, a lot of signing of resolutions with no resources, it's not going to happen. We're not going to control it."