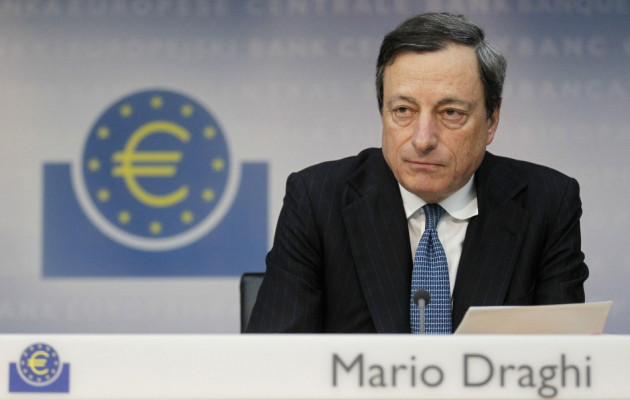 Mario Draghi said Thursday that his pledge to do "whatever is necessary" to protect that single currency were not mis-interpreted by investors, but the European Central Bank President did not provide an new details as to what action the he might take as he spoke to reporters after the ECB latest interest rate decision.
The bank kept its key lending rate unchanged at 0.75 percent and its benchmark deposit rate at 0 percent after a two-day meeting of its Governing Council in Frankfurt. In a statement released just prior to his monthly press conference, Draghi said the ECB "may undertake outright open market operations of a size adequate to meet its objective" but stopped short of defining exactly when those operations might take place or how they might be executed.
Draghi indicated in general terms that any new bond purchases by the ECB could commence in early September, but that this would depend on European lawmakers' ability to activate the ESM/EFSF in the bond market when exceptional financial market circumstances and risks to financial stability exist"
Investors had bet that Draghi's statement to a business conference in London last week were a signal that he would authorise further buying of European government debt - particularly those issued by Italy and Spain - in order to lower borrowing costs for those countries and therefore stabilise market conditions and prevent the need for further financial assistance from the European Union.
"We interpret this as a clear sign that the ECB is prepared to change policy significantly at its September meeting, in terms of purchasing debt without claiming seniority subject to the EFSF being deployed to buy government debt," said Julian Callow, Barclays Capital's chief international economist. "That said, the context of Mr Draghi's comments suggest that the activation of such measures may need to be linked together with a decision by the eurogroup to use the EFSF and ESM for bond market purchases of debt in southern Europe."
Stocks around the region fell immediately after the press conference began and continued to decline into the afternoon session. The FTSE Eurofirst 300 shed more than 1 percent, or 10.05 points, to trade at 1,058.15. Major domestic indices were also trading in the red after Draghi's statements. Spain's IBEX fell more than 3 percent to 6,516.20 while Italy's FTSE MIB sank 2.8 percent to 13,536.53.
Bond investors were also disappointed by the lack of an immediate move by the ECB, marking benchmark 10-year Spanish government bonds 35 basis points higher at 7.02 percent. Ten-year Italian government bonds also weakened, pushing the yield 26 basis points higher and past the 6 percent threshold. The single currency fell to a one-week low of $1.22 against the US dollar.
Investors had been hoping to hear concrete details of a plan that many assume will include so-called primary bond market purchases by the EU's permanent or temporary bailout funds and further secondary market purchases by the ECB's Securities Markets Programme, which hasn't been active since March.
At present, that strategy seems impossible to execute, given the fact that the permanent bailout fund, the European Stability Mechanism (ESM), has yet to receive the necessary legal permission to use taxpayer funds (particularly in Germany) to buy government debt. Furthermore, investors have been confused as to whether any ESM purchases would rank "senior" to government debt holdings of private funds and individuals.
Most observers also agree the ESM will need to obtain a banking license in order to receive the necessary liquidity that will allow it to buy bonds from various governments on the day that they're auctioned. Draghi said that present design of the ESM does not allow the ECB to legally consider it a "counterparty" and therefore the ECB would not be able to provide the fund with cheap loans.
The broader plan, however, does not have the full support of the ECB's Governing Council. German central bank President Jens Weidmann has expressed concerns about further bond buying, Draghi said, and he would need to further persuade the Bundesbank President before he could support the strategy.