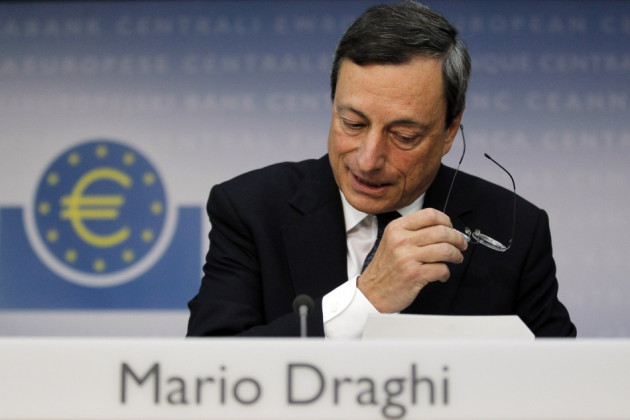 The European Central Bank has kept its key lending rate unchanged at a record low as president Mario Draghi focuses on the impending Spanish bailout and worries about the troubling rise in inflation across the eurozone.
Most economists polled by both Bloomberg and Reuters expected no change in the bank's key refinancing rate of 0.75 percent at the governing council announcement in Ljubljana, Slovenia. Most also expected the bank's key deposit rate to remain unchanged at 0 percent.
Draghi said that the governing council was united on the decsion to keep both rates unchanged, athough he did admit there was no discussion for a cut, adding that he and his colleagues "do not speculate on future interest rate changes".
Even as the eurozone appeared to be heading towards recession in the third quarter of this year, Draghi's hands were effectively tied on further interest rate cuts, economists said, because of the puzzling acceleration in consumer inflation around the region.
Harmonised consumer prices rose 2.7 percent in September, even as unemployment remained locked at a record high 11.4 percent, marking the 22nd consecutive month that inflation has outpaced the Bank's preferred 2 percent target.
At the same time, Draghi needs to wait for further developments within Spain, which is grappling with the decision to apply for formal financial assistance from the European Union after publishing its 2013 budget statement and details of the months-long audit of its banking sector.
Formal assistance is required in order to trigger the ECB's bond-buying programme, known as Outright Monetary Transactions, announced by Draghi in September. To date, it has had a profound impact on Spain's borrowing costs - even though it has yet to purchase a single security.
"The decision [to apply for aid] is entirely in the hands of governments," said Draghi. "The ECB has done what was possible and the OMT would create an environment which is conducive to reforms ut the initiative is in the hands of governments."
Spain tested the power of Draghi's verbal intervention again with a three-part bond sale that raised just under €4bn for the Treasury. The two-year portion of the auction showed a massive reduction in borrowing costs for Prime Minister Mariano Rajoy's cash-strapped government, with an average yield of 3.28 precent compared to the 5.2 percent paid in early July - one week before Draghi's first reference to the OMT prgoramme during a speech to investors in London.
Spain's benchmark 10-year bond yields are trading around 6 basis points higher at 5.86 percent Thursday while the euro is testing a two-week high of 101.82 against the yen.
"OMTs have helped to alleviate such tensions [in financial markets] over the past few weeks, thereby reducing concerns about the materialisation of destructive scenarios," said Draghi.
When asked if he thought Spain was doing enough to justify ECB assitance, Drahghi replied: "There is a tendency to identify conditionality with harsh conditions. Conditions don't need to be necessarily punitive. Actually many of the conditions have to do with structural reforms, which have both social cost, but also great social benefits. And if they are well-designed, the second are going to be greater than the first."