Labour leader Ed Miliband has labelled the coalition's legislative plans laid out in the Queen's Speech as offering "no change, no hope".
A House of Commons debate immediately followed a speech that set out the coalition government's priorities of "economic growth, justice and constiutional reform"
Emboldened by Labour's gains at the recent local elections, Miliband immediately went on the offensive, criticising Cameron for a speech that offered "nothing" for the unemployed and those struggling to make ends meet.
"No change - no hope. That's the real message of the Queen's Speech," he said.
Rather than the Conservative explanations that they made losses in the elections because the public did not understand their plans, Miliband argued that "they understand only too well".
He criticised the goverment for not backtracking on a cut of the top rate of tax to 45 pence.
"If the prime minister really gets it then the first thing he should have done is drop the tax rate for millionaires," he said.
"It is not the perception that this was a budget for the rich, it's the reality."
He said it was clear that the coalition has a communication problem as "the electorate have spoken and they are not listening."
He also criticised the lack of a strong direction on executive pay, which many expected to have been a part of the speech, as shareholders would be given more power over major payouts.
He called on the Conservatives to support proposals to put an ordinary worker on major companies' renumeration committees, before suggesting the party will face its own "shareholder spring".
He repeated chancellor George Osborne's previous promises to deliver a period of sustainable economic recovery, lower inflation and falling unemployment.
"What has he delivered?" Miliband asked. "The worst unemployment in 16 years and a double-dip recession."
Miliband said that Labour would work with the government on defamation reform, the green investment bank and flexible parental leave.
"They all sound like Labour ideas. In fact, they are Labour ideas," he added.
As his final blow, he brought up recent revelations over the government's proximity to media organisations, particularly Cameron's text messages to former News of the World editor Rebekah Brooks.
"This goes to the heart of the problem with this government and this prime minister. They stick up for the wrong people."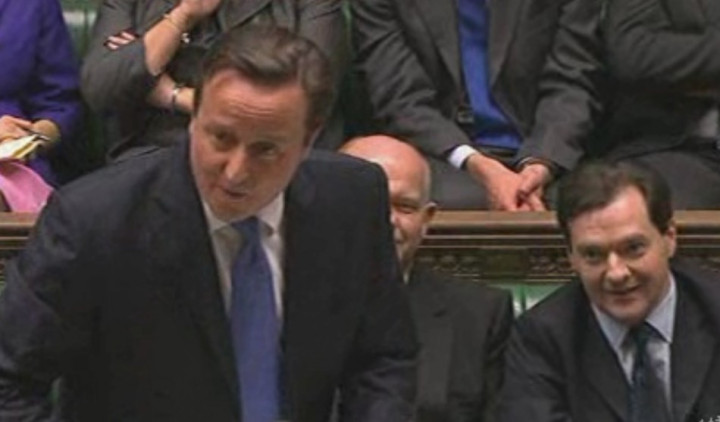 Cameron remained unbowed, claiming that the coalition aimed to support "the doers, the strivers and those who work hard and play by the rules".
"[Labour] criticise the government for its low borrowing, low spending and low debt and yet what is their alternative? There answer is more borrowing, more spending and more debt," he said.
Insisting that the government was prepared to make "tough choices" to enact real change, he went on to say that Labour's proposals to fund a a proposed bankers bonus tax would never work as they has spent their budget "10 times over".
He claimed that proposed chanegs to public sector pensions would save billions, while still keeping pensions above the private sector. He then went on to attack Labour for a failure to support a benefits cap and therefore supporting a bloated benefit system that takes the profit out of work.
"This government's mission is to help families who work hard and do the right thing," he said.
"We have a 2012 session speech, which is packed with great bills, we will have a 2013 session speech packed with great bills and again in 2014 and when we have beaten this rabble opposite us at the next general election we will do the same thing again," he added.