Ed Miliband's Speech: People in £1.6m Houses Shouldn't Throw Stones [BLOG]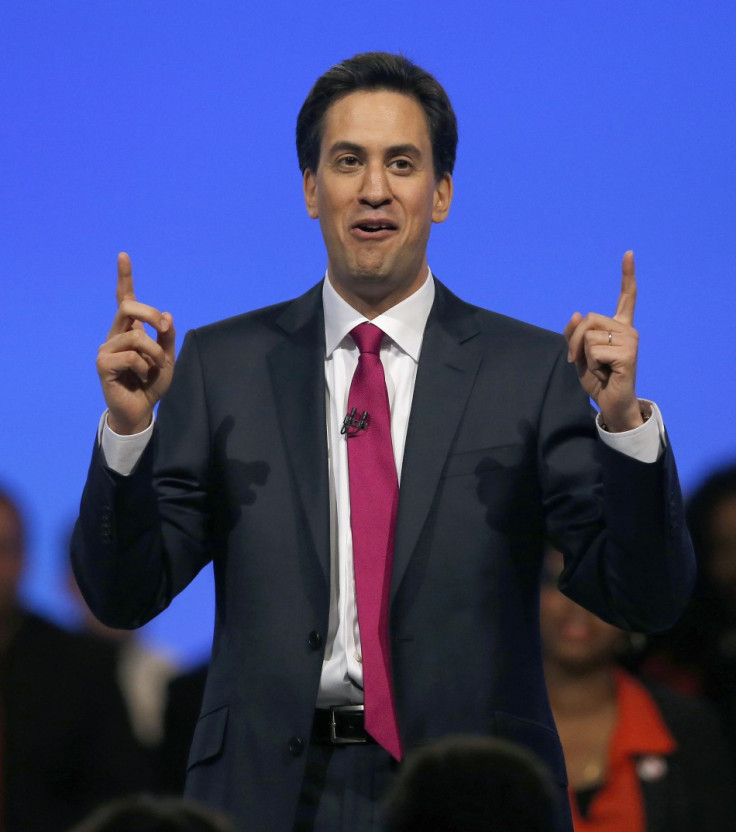 So Ed Miliband has revealed his much-anticipated new image at the Labour party conference. In truth, it's not particularly remarkable; in fact, it's not remarkable at all, according to Miliband himself.
The Labour leader spent his entire speech telling his audience just how bloody normal he is. Unlike those spoilt toffs across the floor, Ed told the conference, he's salt of the earth, the sort of bloke you could have a beer or go to the football with. Forget the fact that his sidekick Ed Balls went to independent school - Labour, and their leader, are the people's natural choice.
OK, so Miliband did attend Haverstock Comprehensive School, alma mater of Joe Cole, Tulisa Contostavlos and Phil Mitchell from EastEnders. It doesn't sound like Eton; in fact, around a quarter of the school's current students are refugees. But the school has also been judged "outstanding" in various Ofsted reports and has always represented a broad cross-section of society. According to an Observer article in 2002, Haverstock has long been favoured by left-wing north London intellectuals. It doesn't sound like school was a constant struggle for the violin-playing Miliband during his teenage years.
Besides, a person's school doesn't always tell us about their background. Michael Portillo, who one would assume was born with an entire silver cutlery set in his mouth, was educated at a comprehensive. Conversely Jodie Marsh, who gives the impression of having been raised by benefit-swindling apes, went to an independent school. A child from a poor background can win a place at all major fee-paying schools, including Eton; a child of privilege can attend the most unprepossessing of schools simply because their parents don't believe in private education. If one wishes to examine a person's class, one has to delve deeper into the lifestyle their parents gave them. And here another pillar of Miliband's new image begins to crumble.
Miliband proudly boasts that his parents were Jewish immigrants who fled to Britain during the war. In fact, his father, Ralph, was one of the world's foremost political authors and academics, who taught at universities in Leeds, London and Chicago. He may have been an ardent socialist, buried near Karl Marx in Highgate Cemetery, but it seems Ralph Miliband made a highly successful living for himself and his family through his political beliefs. Ed went on to touch equally glittering academic heights, studying at Oxford and the London School of Economics - not the sort of academic path your average bloke down the pub is likely to have trodden.
Today, it is hard to get a figure on Ed's personal wealth; some sources put the figure as high as £4.5m. However, we know for certain that he is married to one of London's most successful barristers, Justine Thornton, in a house purchased by the pair for £1.6m. In an interview with Piers Morgan in 2011, Miliband described the house as "relatively expensive". One would hate to find out what he regards as a pricey pad. However, given that he and his brother David inherited a house from their father and were given a flat by their mother, one would assume he knows his way around the property market fairly well by now.
None of this really matters, of course. What really matters in a leader is shrewdness, conviction and integrity. But by playing the class card so often, Miliband drags the whole political debate down into a sticky morass of inverted snobbery, and risks hoisting himself on his own shimmering petard. With a few honourable exceptions (John Prescott or Dennis Skinner, for example) politicians are invariably middle class and educated; any mention of privilege is tautologically hypocritical, as one of Ed's academic chums would probably say.
Miliband could attack the government in all kinds of ways if he so chose. He could attack its chronic economic failings, its failure to improve educational standards, and the inability of David Cameron and Nick Clegg to forge any kind of effective partnership. But by treading the well-worn path of class, he is simply regurgitating the same speech we have heard hundreds of times before. And, coming from him, it seems extremely rich.
© Copyright IBTimes 2023. All rights reserved.