Not even Ed Sheeran could have predicted what would happen after the release of his third album ÷ on 3 March. Pronounced Divide, the anticipated record become the fastest-selling album in the UK by a male artist. However, perhaps even more impressive is that all 16 songs from the album would make the top 20.
Listeners evidently can't get enough of ÷ but the music industry insiders are questioning how it is possible that Sheeran could dominate the top 20 in such an unprecedented way – and whether this streaming effect is actually damaging for the charts.
Currently, Sheeran, 26, claims the first six positions on the UK singles chart with Shape Of You, which is spending its ninth week at number one, Galway Girl, Castle On The Hill, Perfect, New Man and Happier. Overall on the top 20, the only other artists getting a look in are Coldplay and The Chainsmokers with Something Just Like This, Rag'N'Bone Man with Human, Katy Perry with Chained To The Rhythm and Stormzy with Big For Your Boots.
Sheeran did not release every song as an official single – only Shape Of You and Castle On The Hill have that privilege so far. But, the inclusion of streaming figures means that all other album tracks were able to chart. Realising the increasing popularity of the music streaming business, the Official Charts Company announced back in 2014 that they would count data from services like Spotify and Apple Music towards final sales numbers.
As it stands, 150 plays of a song equals one sale. The major shake-up was intended to represent the changing habits in music consumption with streaming subscriptions enjoying a boost and physical sales rapidly declining.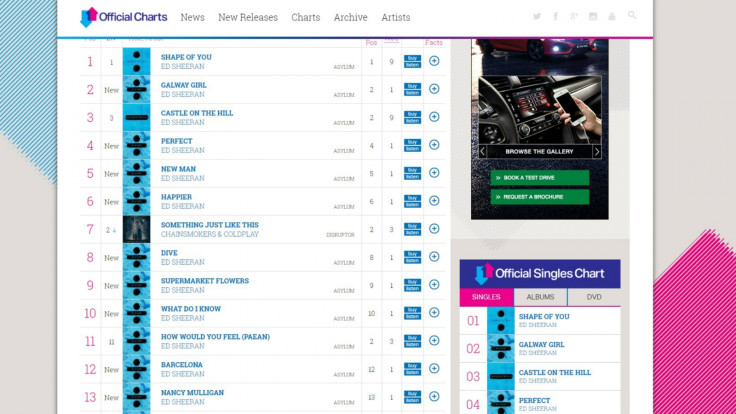 A system that was meant to be forward-thinking now needs a "drastic rethink", according to music industry expert Jon Webster. The president of music managers group MMF, told The Guardian: "You should be looking at two different things: What's happening in streaming, and what's happening in sales. You can't mix them. It ends up in two different metrics and that's the problem."
Even Sheeran himself is dumbfounded by his record-breaking feat and believes something is broken with the streaming platform. The Thinking Out Loud singer told BBC Radio 1: "I don't know if there's some weird thing that Spotify and Apple Music are going to have to change now. I never expected to have nine songs in the top 10 in my life. I don't know if something's gone wrong but I'm definitely very, very happy about it."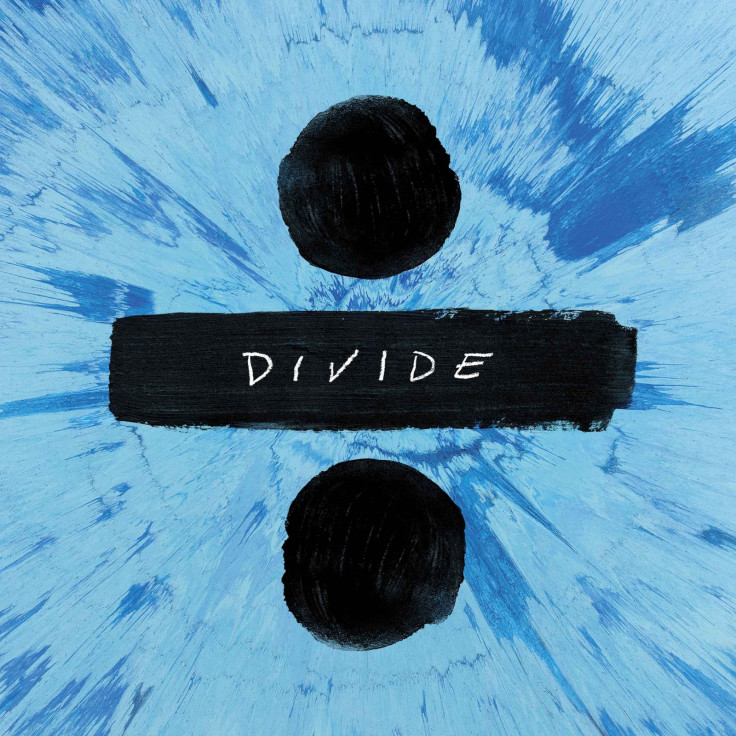 Of course Sheeran is pleased with his achievement – who wouldn't be? The worrying aspect of his success is that it comes at the detriment of other artists who will struggle to topple Sheeran from his throne in the coming weeks. On the flipside, there is a silver lining in that Sheeran's record-breaking feat appears to be an anomaly.
It is nearing on three years since the Official Charts made changes to the way the charts are counted. In this time, no other musician has matched Sheeran's success. Adele may have the fastest-selling album in UK history with her third album 25 but she certainly did not dominate the top 20 with every song from the album in its debut week.
It is possibly too early to say whether another singer will be able to emulate what Sheeran has on the charts and what the long-term effects could be. But for now, music industry critics will be watching closely.
Listen to Ed Sheeran's Galway Girl: