Eddie Howe has conceded that it will be "very difficult" for Bournemouth to secure the services of loanee Jack Wilshere on a full-time basis this summer, with the injured Arsenal midfielder having now returned to his parent club.
The 34-cap England international, who had previously attracted interest from Roma and Crystal Palace, made 29 Premier League appearances after joining the Cherries on a season-long deal in August. He saw his 2016-17 campaign prematurely curtailed last month by a hairline fracture in his left fibula suffered in a collision with Harry Kane that took place during a heavy 4-0 defeat to Tottenham Hotspur at White Hart Lane.
Howe previously reiterated an interest in signing Wilshere on a permanent deal despite dropping him to the bench for a brief spell, but conceded that the decision was out of Bournemouth's hands and that "Jack may well see his future elsewhere".
Addressing his situation again during a press conference held prior to Saturday's (13 May) visit of Burnley to the south coast, he claimed that the 25-year-old was always scheduled to go back to Arsenal at the end of the season.
"No, I think that's going to be very difficult for us," he was quoted as saying by Sky Sports when asked if there was a chance of Bournemouth retaining Wilshere. "When we signed him on loan, and I've said this many times, the plan was for him to stay a season and then go back to Arsenal to evaluate his future."
Quizzed initially as to whether Wilshere staying at the Vitality Stadium to begin his rehabilitation was a good sign, the manager said: "He did part of his rehab here, he's now gone back to Arsenal. But it was great to see him for the week that he was with us and really nice to be able to speak to him and for him to see all the players again, because after the Tottenham game he suffered the injury that he did and the players hadn't seen him again. [It was] really nice to be able to spend time with him, talk to him and wish him well for the future."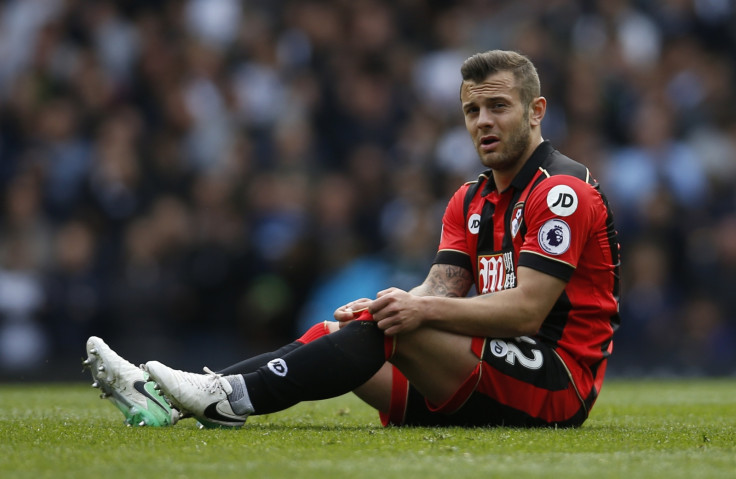 Wilshere – who has also been mentioned in connection with a possible £30m ($38.6m) switch to West Ham United – is out of contract at Arsenal next summer and while negotiations over an extension have yet to commence, Arsene Wenger has confirmed that the latest in a very long line of injury setbacks for the player will not impact future talks.
The Frenchman, whose own future is yet to be resolved, has expressed an intention to keep together a British core of players that includes Aaron Ramsey, Wilshere, Alex Oxlade-Chamberlain and Kieran Gibbs. The latter three all have just one year left to run on their current deals.
With a third successive season of top-flight football mathematically guaranteed following a 2-2 draw with Stoke City last weekend, Bournemouth have already turned their attentions to potential new signings. Outgoing Chelsea captain John Terry and veteran Sunderland striker Jermain Defoe have been linked with the club of late in addition to the likes of Asmir Begovic, Nathan Ake and QPR's Ryan Manning, yet Howe is remaining tight-lipped as to the identity of his summer targets.
"We've started processes to identify players for next season," he added. "But in terms of names, positions etc, I won't be saying any further."