Eddie Jones has warned a handful of England players that they will not be selected for the upcoming tour of Australia unless there is a marked improvement in both their attitude and performance. After a warm-up meeting with Wales at Twickenham next month, the Six Nations champions head down under in June for three Tests against Michael Cheika's Wallabies in Brisbane, Melbourne and Sydney.
Jones has enjoyed a terrific start to his tenure since replacing Stuart Lancaster in November 2015, swiftly banishing memories of a wretched World Cup showing on home soil to claim England's first grand slam for 13 years. But while his squad have earned widespread plaudits for their recent efforts, the wily and uncompromising former Japan head coach believes there are certain underperforming individuals who risk being omitted from international duty entirely this summer.
"If you look at the 32 or 33 players we used for the Six Nations, I'd say at this stage that 27 or 28 of those players have played with distinction," he told reporters. "They've gone back to their clubs, they've played at international standard and they've added to their teams. That's why they're doing well. They are the best players in England.
"There's four of five that haven't, and those guys are on notice that they won't be going on tour unless they change their approach to their play. What they're doing in games, it's not good enough. One of the things we said when they left England was that they had to go back to their clubs and play like international players. There's been a few that haven't, so those guys are on notice that they won't be going on tour unless they change their attitude. It's not talent, it's attitude. The rest of them have been outstanding."
When asked if he had spoken to the players in question, Jones, who declined to reveal their names, replied: "They've got the message, one way or the other."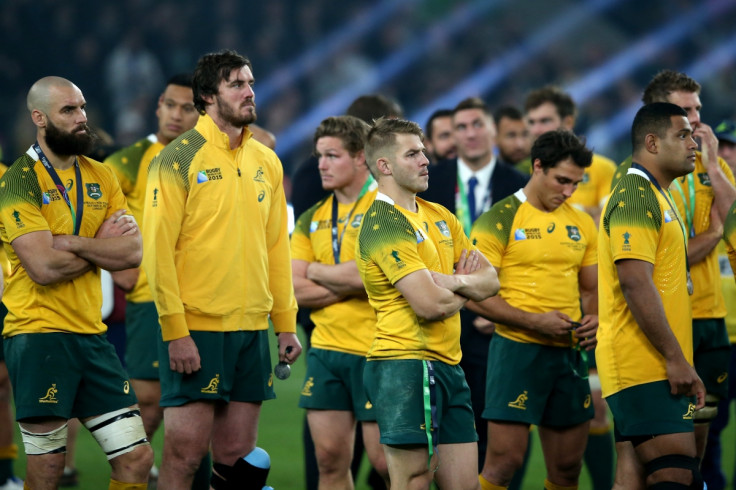 England have rather mixed memories of competing in Australia, with their 2003 World Cup triumph followed by a thumping 51-15 defeat just seven months later. Jones was in the third year of his stint as coach of the Wallabies at that time and is adamant that his vastly improved team will not suffer from any complacency or lack of preparation.
"I was coaching Australia when we played in 2004. We played them in Brisbane and put 50 points on. Thursday night, we knew their blokes were out in the pub drinking. If we've got any of that sort of attitude now... I've just said that there's three or four players that have shown that at club level. They're not putting their bodies on the line for their clubs. They're not doing the things that we want to see consistently from an England player."
Jones insisted he was not surprised by the identity of those players who had let their focus slip, adding: "They've got agents. They've got people telling them how good they are. They read the newspapers, they listen to the television commentators. It's hard for them in England. It is one of the most difficult things about English rugby because the media here is intense. You're all looking for headlines and you're all looking for a good story.
"Everyone wants to have heroes. That's not your fault, I'm not criticising you at all. That's the reality of it. So these guys get their heads filled, they've got agents saying, 'Come and wear these shoes, this guy will look after you. You're fantastic.' They are good game people, slapping them on the back and telling them how good they are. They get ahead of themselves and there's a few guys that have. You know who they are. Before they left, I knew who they were and now they've got to sort themselves out. Otherwise, their English careers will be something that's a good memory for them."