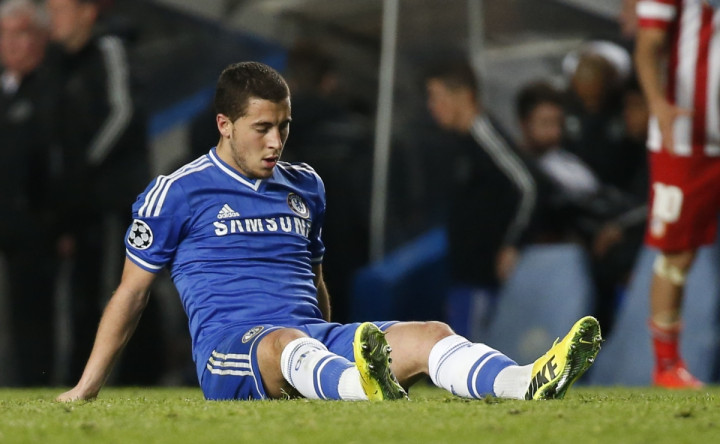 Chelsea midfielder Eden Hazard believes the summer arrivals of Diego Costa and Cesc Fabregas to Stamford Bridge will take some pressure off him.
With strikers Fernando Torres, Samuel Eto'o and Demba Ba all failing to make strong goalscoring contributions last season, the Belgium international ended up being Chelsea's top scorer in the Premier League, with 14 goals in 35 appearances.
But Hazard believes his attacking role may change this season after manager Jose Mourinho overhauled the squad by signing Costa and Fabregas, along with Didier Drogba, Loic Remy, Thibaut Courtois and Filipe Luis.
"Last season I scored a lot of goals and maybe this season I can make a lot more passes forward because Costa is one of the best and he can score. It's my job to score but it's also my job to make assists as well," Hazard said, according to Standard Sport.
"I can now concentrate on assists. I'm ready to be better than last season. When I'm on the pitch I try to give my best.
Hazard lavished praise on Costa and Fabregas and hopes they can help Chelsea win trophies this season after one without silverware.
"It's true they're the best players. Costa can score every game and Cesc is one of the best midfielders in the world," the Belgian added.
"Cesc can score as well and make good assists, just like the first game against Burnley where he made a beautiful pass for Andre Schurrle. It's very important for the team and he can help us win.
"We can win four trophies and I hope we can compete in the two cups, the Premier League and Champions League for a long time throughout the year."
Meanwhile, Hazard exalted the importance of defender Cesar Azpilicueta in his attacking performance.
"I have Azpi behind me and he helps me when I attack or have to defend. Off the pitch, we are very close friends because he can speak French and understands everything.
"It is important for me to play with him because I know how he plays. I played against him when he was in Marseille and it was always a tough game. I think he can reach the level of being one of the best right or left-backs in the world."