Eden Hazard has emerged as a major injury doubt for Chelsea ahead of their game against Arsenal at Stamford Bridge. The midfielder is suffering from a hamstring strain after a knock against Leicester City and is being assessed to realise if he will be able to start in an important game against the north London club.
The Sun reports that Antonio Conte is trying to protect Hazard and may see him operating from the bench after starting against Liverpool in a high octane encounter at Anfield last Tuesday. The midfielder has not completed the last two league fixtures for the Blues, against Hull City and Liverpool, with a lot of games still to play in the season. Chelsea could go 12 points clear of the Gunners with a win, all but eliminating any hope that Arsenal may have of challenging for the title.
Hazard was part of the training session on Wednesday and he will be closely monitored. Chelsea have another injury doubt in the form of David Luiz, who is recovering from a knock in the knee after Sergio Aguero's horrendous tackle on the Brazilian in Manchester City's defeat at the hands of the Blues in December.
"I've been feeling my knee for some time, I've been playing a bit impaired, but it's all part of football. It's ok, we'll treat it now and rest for Saturday's game," Luiz said.
Arsenal themselves are far from full strength, losing Aaron Ramsey to a calf injury in their 2-1 loss to Watford, while Mohamed Elneny is out owing to his international commitments. Santi Cazorla is injured while Granit Xhaka is also suspended after his two footed tackle against Burnley.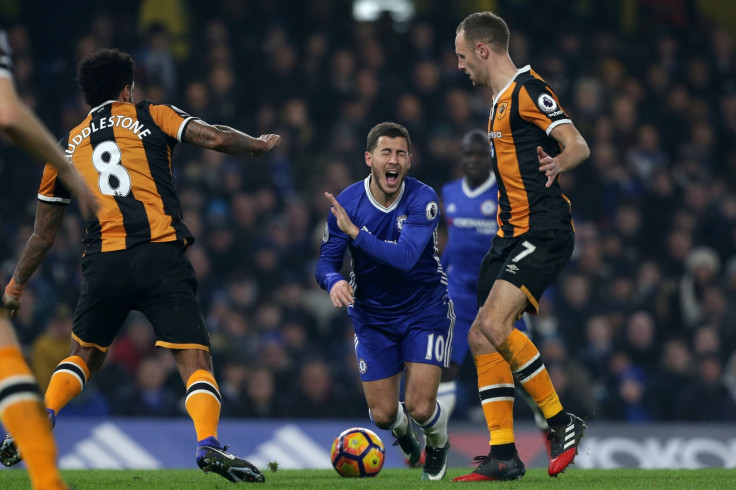 Alex Oxlade-Chamberlain is expected to come in place of the Welshman alongside Francis Coquelin, who is also not in the best of health. Meanwhile, Hector Bellerin is likely to replace Gabriel at right-back after the Spaniard started on the bench against Watford. Danny Welbeck is set to return to the bench, while Olivier Giroud is a doubt with an ankle injury.
The north London club beat the Blues 3-0 in the reverse fixture at the Emirates, which forced manager Antonio Conte to change his formation and go three at the back, following which he went on a 13 game winning streak.
.