Liverpool manager Jurgen Klopp has dismissed comments made by Manchester United boss Jose Mourinho that he is treated differently to other Premier League coaches. Mourinho said referees and the Football Association treat his indiscretions more seriously than some of his rivals, accusing the authorities of double standards.
Klopp was caught by television cameras screaming at fourth official Neil Swarbrick after Diego Costa's missed penalty in the 1-1 draw with Chelsea on Tuesday (31 January). Mourinho, speaking after the goalless stalemate with Hull City, said the German had been hailed for displaying such emotion on the touchline, while he continued to be punished.
Mourinho has served two separate touchline bans this season after incidents in United's draws with Burnley and West Ham United last year, while he has paid over £200,000 in fines during his managerial career in England. The ex-Chelsea and Real Madrid gaffer felt unable to criticise referee Mike Jones after the 0-0 draw with Hull on Wednesday but lamented the double standards showed by the FA.
"I heard things about this before, too," said Klopp, according to the Liverpool Echo, when asked to react to Mourinho's remarks. "I have no idea [if managers are treated differently]. We all know what we can do. It didn't look nice, but it was not as bad as it looked. Maybe I was lucky. There are different ways to handle the situation.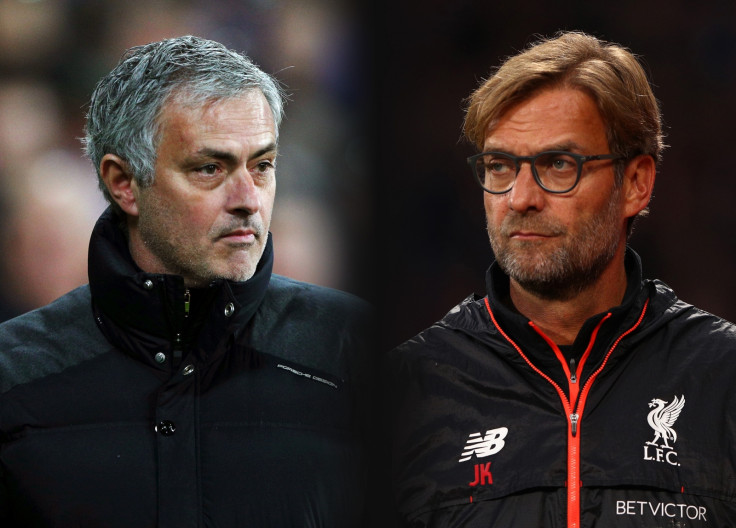 "It's emotional game. We all know what we can do. Maybe I was lucky the 4th official said something like that. We struggle, myself, Jose, Arsene Wenger. Sometimes we get a fine, sometimes not. It was worse when I was younger. I have already improved. I've no idea why he spoke about me, you'd have to ask him."
The FA are yet to confirm whether Mourinho's comments, in which he alleged he is discriminated against, will bring about a misconduct charge. The United boss also alluded to the manner in which Wenger has previously been reprimanded, though the French boss is currently serving a four-game touchline ban for pushing the fourth official against Burnley last month.