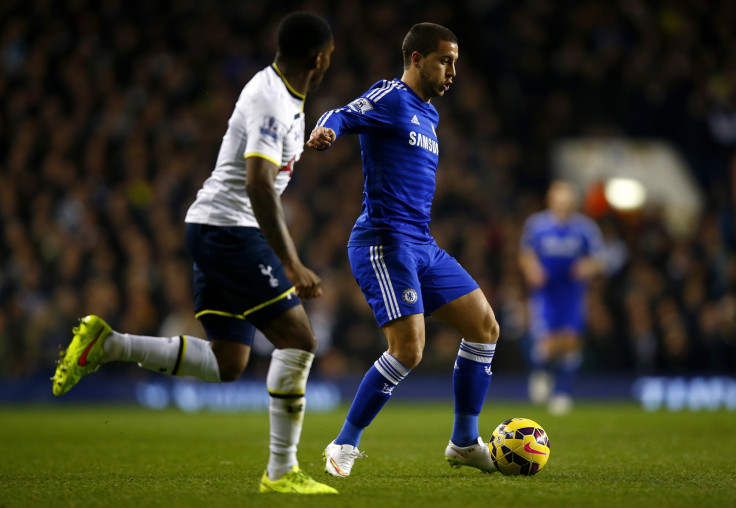 Chelsea manager Jose Mourinho says Eden Hazard could consider leaving the Premier League if referees do not clamp down on the rough treatment the Belgian continues to receive in the top flight.
Hazard is the most fouled player in England's top division since moving to the Blues in the summer of 2012 and was the victim of a number of late challenges during the 5-3 defeat at White Hart Lane.
And Mourinho has warned that Chelsea and the Premier League risk losing Hazard to a team abroad should referees continue to overlooked heavy challenges on the winger, adding the player is often too honest.
"People in love with football in this country must be in love with Eden Hazard," he said. "The way match after match he is being punished by opponents and not being protected by referees, maybe one day we don't have Eden Hazard [in this country].
"It's one, two, three, four, five, 10 fouls, aggressive fouls. They kick and kick and kick, and the kid resists because he is a fantastic kid, strong physically and he is very honest in the way he plays, but I think this is another problem."
Mourinho's criticism of referees comes after he claimed there is a "campaign" against his Chelsea team after Cesc Fabregas was adjudged to have dived in an attempt to win a penalty in the 1-1 draw with Southampton.
Chelsea were denied another spot-kick at White Hart Lane after Jan Vertonghen's handball was not spotted by referee Phil Dowd, who was also criticised by Mourinho for not keeping up with play during the London derby.
Mourinho's criticism related to a coming together between Federico Fazio and Hazard which saw the Chelsea man go to ground after the Argentine won the ball with a challenge from behind, with replays later suggesting the decision was a correct one.
But the Portuguese boss said: "I'm more shocked at other things than to concede five goals. I am shocked that, in three days, we've had two incredible decisions that punished us in a very hard way.
"Eden Hazard told me there was not a foul or a red card when he was fouled in the second half but Mr Dowd is too slow to go with that ball – he was 40 yards away.
"He made the right decision, so that's good, but he couldn't make the decision that was 10 metres away in the first half – a crucial moment of the game.
"With the result 1-0, one clear action could make it 2-0. Normally at 2-0, the result and the history of the game would be different.
"Managers and players, we win and lose but Mr Dowd didn't lose. This is the type of decision that is very difficult to accept."