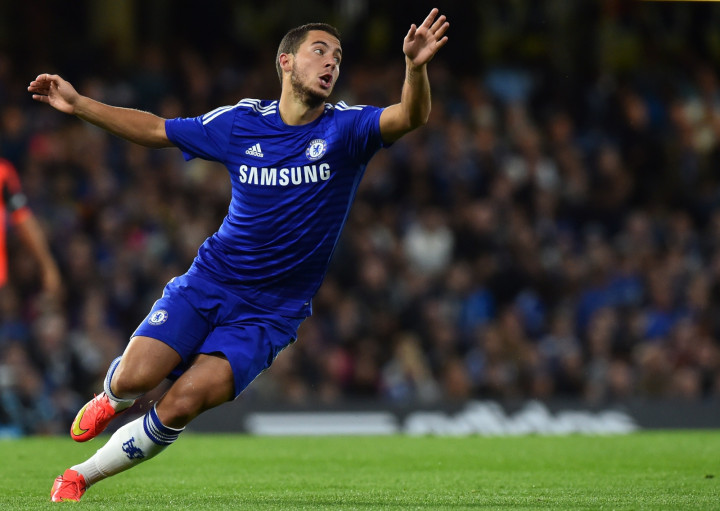 Eden Hazard has revealed former Chelsea star Joe Cole urged him to join the Blues when the two played alongside each other at Lille.
While Hazard was garnering a reputation as one of Europe's brightest talents during his time at the Ligue 1 club, he spent one season playing alongside Cole during the Englishman's loan spell from Liverpool at the Stade Pierre-Mauroy during the 2011/12 season.
In that season, Hazard went on to win the Ligue 1 player of the year award before making his move to Stamford Bridge at the end of the term, after rejecting an offer from Manchester United.
Now, on the cusp of being awarded a new long-term deal, Hazard thanked former Blues favourite Cole for pointing him in the right direction.
"Yes, he [Cole] said to me before, when we were at Lille: 'You have to be at Chelsea, because is the right club for you.' I said: 'OK Joe, I will go,'" Hazard told Sky Sports.
"I still speak to Joe now and did when we played against him with West Ham last season."
Hazard is looking forward to testing himself against another former Lille teammate, Mathieu Debuchy. The two shared Ligue 1 title success in 2011 but will find themselves on opposing sides of one of the capital's heated rivalries this season when Chelsea and Arsenal play each other.
"It is very exciting, because Debuchy is my friend. We won everything in Lille together," Hazard said.
"Last season was my first game against him when he was at Newcastle. It is always good to play against your friend."
Hazard is expected to sign a new long-term deal at Stamford Bridge in the coming weeks. Chelsea manager Jose Mourinho confirmed talks were planned after claiming the Belgian can become one of the "greats of his generation".
"It is true Chelsea are trying to have an agreement over a new contract, and that he wants to stay and commit for a few more years," Mourinho said.
"It is a question of time. One more month, one less month, and he'll have a new contract."