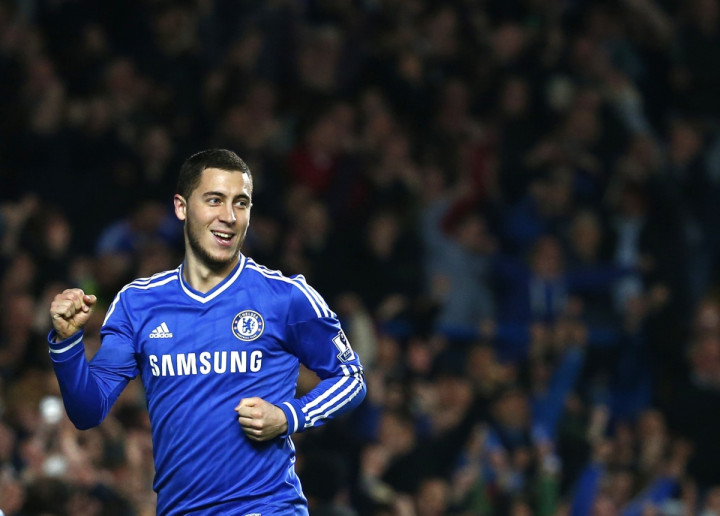 Chelsea manager Jose Mourinho has confirmed that the Blues are in talks with Eden Hazard over a contract extension.
"He is a player we want to keep. It's true Chelsea are trying to have an agreement with him over a new contract, and that he wants to stay. It's a question of time," Mourinho said, as quoted in the Express.
The Chelsea boss rates the Belgian international very highly and believes he is getting better as the days go. Mourinho hopes Hazard can take his game to the next level and become one of the greats of his generation.
"Eden means a lot to us because he's a fantastic player. We are seeing day by day his motivation to work hard and improve.
"We have big hopes that he will go from the top talent he is at this moment to one of the greats of his generation. His talent will allow that," the Blues boss added.
The former Real Madrid boss drew comparison with legendary Frenchman Zinedine Zidane, and admits that to have ambition to reach that level is always a good sign. The manager also spoke about shirt numbers, following Hazard's switch to his preferred No 10, following the departure of Juan Mata.
"Can he be another Zinedine Zidane? The first point to compare is the size!" Hazard is a diminutive 5ft 8ins, while Zidane was a solid 6ft 1ins. To have that ambition is good. I like that. I don't care about shirts and numbers. The players decide, they ask, they change," the former Inter Milan boss remarked.
Mourinho had criticised the Belgian winger last season following the loss against Atletico Madrid in the Champions League, but his views have changed after revealing that he has seen the player change and maintains that the tactical and mental education has played a part in improving him as a player.
"Even last season that was changing. There has been a big evolution from the Eden I met when I arrived. He was changing.
"He was a kid who always lived on his natural talent, which is amazing. But he started to have some tactical education, mental education. There's been a big improvement," Mourinho added.
It is claimed that Hazard is close to penning a new five-year contract with the Blues and set to earn around £200,000-a-week, making him the highest paid player in the Chelsea squad.