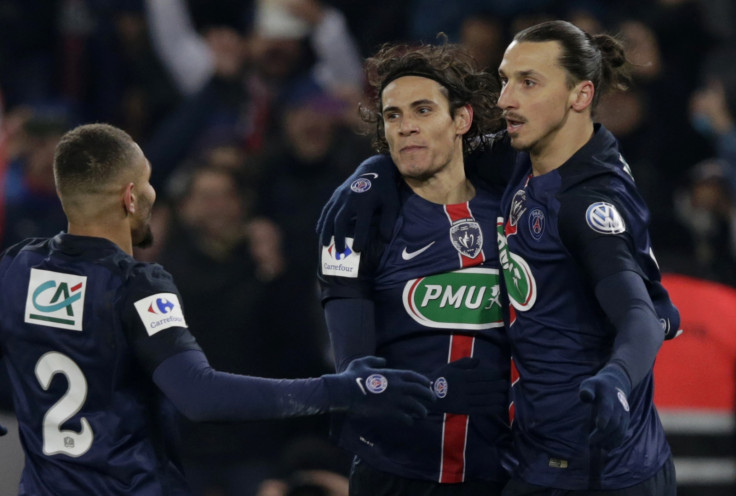 Paris Saint-Germain striker Edinson Cavani has been backed by manager Unai Emery to fill the gargantuan void left by Zlatan Ibrahimovic. The former Sweden captain scored 156 goals in 180 games as he helped PSG win four successive Ligue 1 titles during his spell at the club, but his move to Manchester United leaves Emery struggling to replace those heroics.
Cavani was largely frustrated during his spell alongside Ibrahimovic and was often overlooked or played out of position during their three-year spell together in the French capital. The Uruguay international however begins the new season as first choice in the PSG attack.
But just one goal in their opening four games of the season has seen Cavani make an inauspicious start at the head of the PSG attack – in stark contrast to Ibrahimovic's form at United, which saw him net in each of his first three appearances for Jose Mourinho's side. However, Emery is ready to keep faith with Cavani and believes he can produce.
"I have no doubt about Cavani," he said, according to Eurosport. "I go to the supermarket every day, I buy a lot of confidence and I give it to the players. Cavani started rushing a bit. I told him to be calmer. He is 29 years old – this is a good year for a player.
"I asked him to create chances, which he has done, and later he will score. There are days when he will be worse, but he will eventually be decisive. He likes the responsibility.
"It's important to give confidence to Cavani, and it's hard to sign a very important player who is going to compete with him. Jese has played as a striker, he is versatile, as is [jean-Kevin] Augustin, a young player who is ready to play and will progress."
Ibrahimovic opted against renewing his contract with PSG in order to join United and link-up with Mourinho for the second time in his career, after the pair's spell together at Inter Milan. The ex-Barcelona and Juventus forward has regularly hailed the Portuguese coach and says he was the main reason behind his move to England from France.
"He is the mastermind, the masterbrain," Ibrahimovic said of the United boss, according to Omnisport. "He knows what he needs to do to win. I learned a lot from him at Inter. Who wouldn't want to have Mourinho as manager."