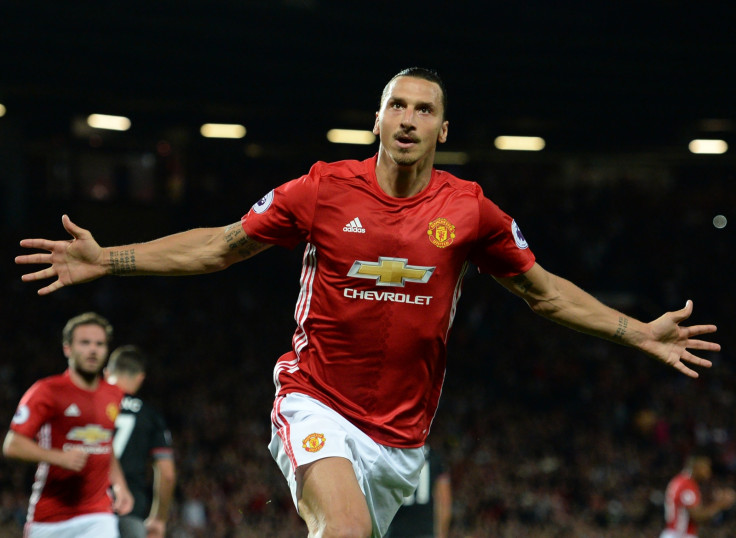 Manchester United striker Zlatan Ibrahimovic has teased Manchester City goalkeeper Claudio Bravo ahead of the derby match at Old Trafford on Saturday (10 September). The charismatic Swede has taken to his Instagram account to post a video of him sending training gear to the ex-Barcelona shot-stopper, warning Bravo he will need it ahead of their Premier League clash.
In the video clip, Ibrahimovic is seen putting some items from his A-Z sportswear clothing line into a box and addressing the package to Bravo, who joined City during the summer transfer window. The 34-year-old also wrote a personalised message to Bravo as the caption, saying: "Welcome to Manchester! Here's some training gear, you're gonna need it. See you Saturday."
The much-anticipated derby between United and City will also see Ibrahmiovic renew his rivalry with Pep Guardiola, his former manager at Barcelona. The duo famously fell out during their time at the Nou Camp and Ibrahimovic has frequently spoken about the Spaniard in disparaging terms.
In his 2013 autobiography I Am Zlatan, for instance, the outspoken centre-forward said Guardilola compared unfavourably to United boss Jose Mourinho, who previously worked with Ibrahimovic at Inter Milan. "If Mourinho brightens up the room, Guardiola pulls down the curtains," he said.
Ibrahimovic also lifted the lid on his Barcelona exit, revealing that a spat developed between himself and Guardiola in the aftermath of the Catalans' exit from the Champions League at the hands of Mourinho's Inter. "I yelled: 'You haven't got any balls!' and worse than that I added: 'You can go to hell!'" the United star explained.
"I completely lost it, and you might have expected Guardiola to say a few words in response, but he's a spineless coward. He just picked up the metal box, like a little caretaker, and then left, never to mention it again, not a word."