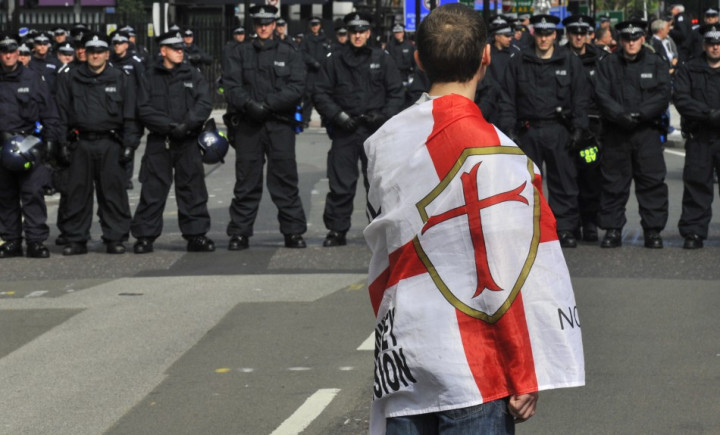 The English Defence League has endorsed Ukip ahead of next month's elections - only to be told "you're not welcome" by the euro-sceptic party.
Stephen Lennon, leader of the far-right EDL, said Nigel Farage's party was "saying exactly what we say, just in a different way."
Speaking to thebackbencher.co.uk, Lennon said UKIP's approach to Islam and the changing face of England was correct, referring specifically to a speech given by the party's former leader Lord Pearson.
Lennon, who also goes by the name Tommy Robinson, told thebackbencher : "I remember a speech Lord Pearson done 2 years ago, he was the ex-leader of where he questioned about the EDL, and everything he said in his speech about what is happening to this country about the demographics of Islam, and the Muslim birth rate, and the threat to the nation.
"I remember watching that and thinking: "he has got it on the head; he's hitting every nail on the head, I agree with everything he is saying.
"But to hear a well-educated; say for example my own mother doesn't agree with what I stand for; but when I show like Lord Pearson saying what we are saying, because they are saying exactly what we say, just in a different way - do you know what I mean?"
Lennon chose to endorse Ukip just as Farage embarked upon a 'Common Sense Tour' of England ahead of the county elections on 2 May.
Ukip is looking to make inroads into England's councils following a string of high-profile local electoral successes, the most recent coming at last month's Eastleigh by-election when the party finished third to embarrass David Cameron.
Responding to Lennon's message of support, a Ukip spokesman said: "They are trying to get publicity. We want people to vote for us from across the political spectrum, be they Conservatives, Labour or whatever. But we are very clear that if you are an EDL supporter then you are not welcome in Ukip."
Ukip has already banned EDL supporters from joining the party. However, enforcing the ban is difficult because EDL is a non-membership organisation.