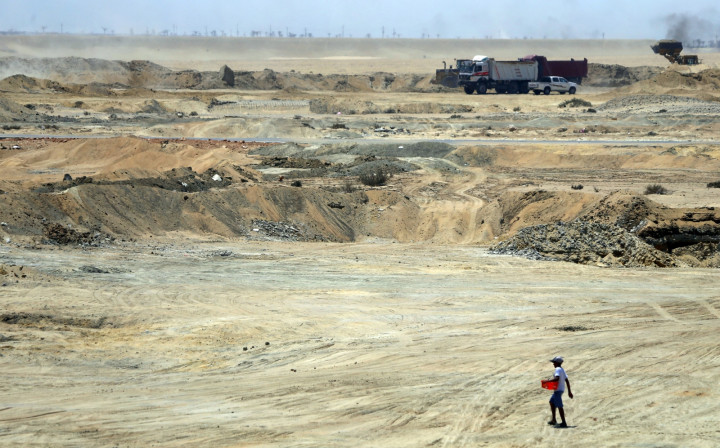 Plans to develop a parallel Suez Canal will be financed by investment certificates, available to Egyptian individuals and corporations only.
There will be no limit on the amount that any party can buy, the country's finance minister said.
Hany Kadry Demain said the certificates could be bought by Egyptians working in the country in the Egyptian pound, while those living abroad may be able to buy the certificates in dollars or euros, according to reports in Egyptian state newspaper Ahram.
The investment certificates will have a five year lifetime with a 12% interest rate and will be issued by Egyptian state-owned banks, the Prime Minister Ibrahim Mahlab said in August.
The mega project was announced in early August by Egypt's President Abdel Fattah al-Sisi, who estimated the total cost to be around $4bn (£2.4bn, €3bn.)
Digging has already begun on the 72km waterway, which the Egyptian government ambitiously aims to finish in a year.
In addition to the canal, the government's mega-project is set to include the construction of six tunnels that will link the Sinai peninsula with the governorates of Port Said and Ismalia. The overall cost of the infrastructure projects is anticipated to come in at $8.2bn.
Cairo has said the canal project is expected to boost the canal's annual revenues by 259%, up from $5.5bn to $13bn over the next four years.
While the government has stressed that only Egyptians are to be involved in financing the project, its sheer scale may require the backing of foreign investment at some stage.
"For a project of this size, there will be ample room for international investors, even if that does not materialise in the short term," said Tarek Osman, Political Counsellor for the Southern and Eastern Mediterranean at the European Bank for Reconstruction and Redevelopment.
"I also expect international financing to be a combination of development finance and various debt structures, in addition to principal investing," Osman told IBTimes UK.
The original Suez Canal, which opened in 1869, became a symbol of Egyptian national pride when it was nationalised in 1956, eventually sparking the Suez crisis.
It has provided the fastest shipping route between Europe and Asia and has propped up the country's finances since 2011, when the country's former President Hosni Mubarak was ousted amid massive street protests.
Three years of political, social and economic turmoil followed. The country's first elected president lasted around a year, before being ousted in a military coup amid popular protests in July 2013.
While revenues from tourism and foreign investment have plummeted, the canal has provided a regular income to government coffers.