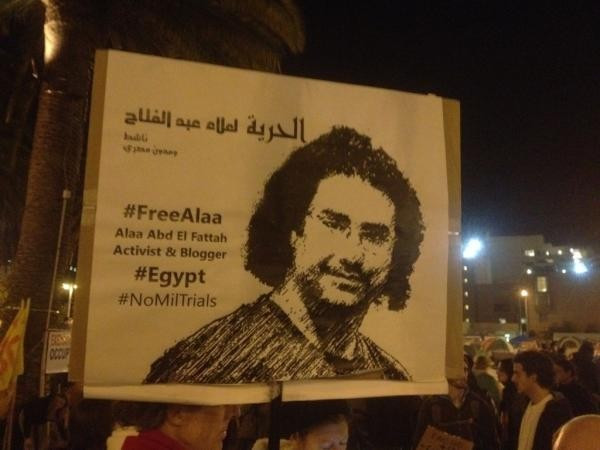 Egypt's blogger Abd El Fattah has been charged with 12 counts including on charges of premeditated murder and act of terrorism it was reported Tuesday.
Fattha, detained since the end of October was accused of inciting violence during a Coptic Christian demonstration to protest the burning of a church in Aswan.
The protest was joined by many Muslims but violent clashes between protesters and the security forces left 28 people dead and at least 325 injured, with the day now being remembered as the Maspero massacre, in reference to the Cairo district where the violence took place.
The army blamed the deaths on violent elements but footages showing armoured vehicles running over protesters emerged, with witnesses insisting they had been attacked by the security forces.
Fattah widely criticised the armed forces for the violence and was summoned for questioning and held in detention.
The prominent blogger in a popular voice in Egypt, renown for his criticism of the Mubarak regime and of the Supreme Military Council which took over power.
However Tuesday, the Egyptian website Shorouk News reported that Fattah had been charged on 12 counts, including premeditated murder and act of terrorism, during a court hearing.
His case was transferred from a military court to a civilian court on Sunday it added, noting the move had paved the way for the new charges.
Reports suggest that Fattah is accused of inciting to violence and carrying "knives and firearms likely to cause death."
The blogger is also accused of premeditated murder after the prosecution said he attempted to storm a government building "by force and violence" and attacked people, ultimately leading to the death of an Egyptian corporal.
Fattah is also accused of "stealing weapons and ammunitions" from the armed forces and of vandalising public property "for purposes of terrorism."
attah denied all the charges and insisted he was not present during the October 9 protests.
But two witnesses, including a member of the Freedom and Justice party, have said they saw Fattah acting violently. The Freedom and Justice Party has strong links to the Muslim Brotherhood, a group widely criticised by protesters last week for supporting the army and calling for the parliamentary elections to go ahead.
Soon after the publication of the report, Fattah's supporters took to Twitter to spread the news using the #FreeAlaa hashtag and condemning the trails and charges.