Egypt's Al-Sisi Vows to Wipe out Muslim Brotherhood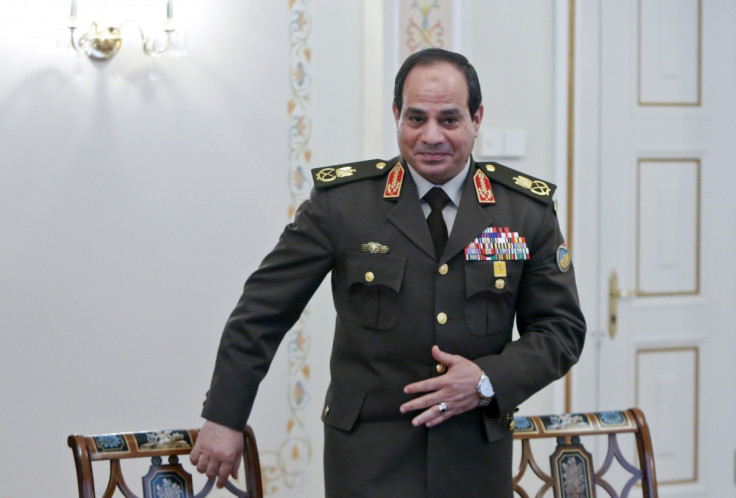 Egypt's former army chief and presidential hopeful Abdeh Fattah al-Sisi has vowed to wipe out the Muslim Brotherhood from the country if he gets elected in the upcoming elections.
Sisi, in his first television interview in this election campaign, has insisted the disbanded outfit "would not exist" if he takes over. The interview was jointly conducted by two private television networks – CBC and ONTV.
He said: "I want to tell you that it is not me that finished [Brotherhood]. You, the Egyptians, are the ones who finished it."
When asked further whether the group would be wiped out, he answered: "Yes, that's right."
The Brotherhood's leader Mohammed Morsi was ousted as president following an army-led intervention when Sisi was the military chief.
"The thought structure of these groups says that we are not true Muslims, and they believed conflict was inevitable because we are non-believers. It will not work for there to be such thinking again."
Since Morsi's removal, more than 1,000 people have been killed in clashes across the country and thousands of Brotherhood supporters have been detained by the interim authorities while branding the group as a terrorist outfit.
Sisi's latest remarks are considered as explicit rejection of any attempts to reconcile with the Islamist outfit, which came to power after the overthrow of former dictator Hosni Mubarak.
Sisi is widely predicted to win the presidential elections which are set to place on 26-27 May. Sisi, who stepped down as army chief to contest the polls, faces a sole challenger in leftist politician Hamdeen Sabahi.
During the interview, Sisi revealed that there were two assassination attempts on him. However, he refrained from divulging specifics of the plots.
Sisi, a self-declared devout Muslim, was somewhat ambiguous when answering whether Egypt would embrace Islam and to what extent if he comes to power.
"The religious discourse in the entire world has deprived Islam of its humanity. In Islam there was a civil state, not an Islamic one," he said.
© Copyright IBTimes 2023. All rights reserved.