Election 2015 latest polls: Where the parties stand on the road to Downing Street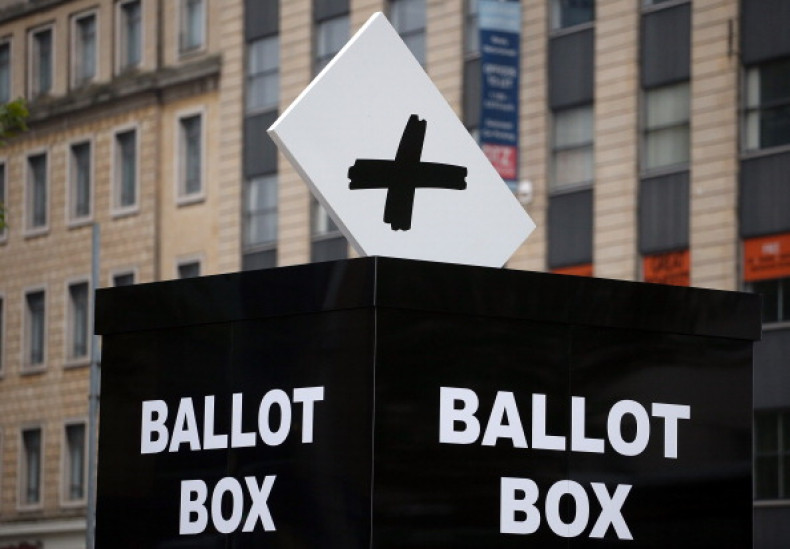 Labour saw a slight post-manifesto launch bounce in the latest YouGov poll on 14 April, again taking a two point lead over the Conservatives.
Among Labour's big pledges are an extra £2.5bn for the NHS, to fund thousands more GPs and nurses, and promises to cut the deficit every year of the parliament, get the public debt falling, and not to fund any commitments with extra borrowing.
But the poll also came before the launch of the Conservative manifesto, which pledged to extend the right to buy to 1.3 million housing association tenants, lift the 40p income tax threshold to £50,000 and increase the personal allowance to £12,500.
YouGov poll for The Sun - 1,842 adults surveyed between 13-14 April 2015. Margin of error +/-2%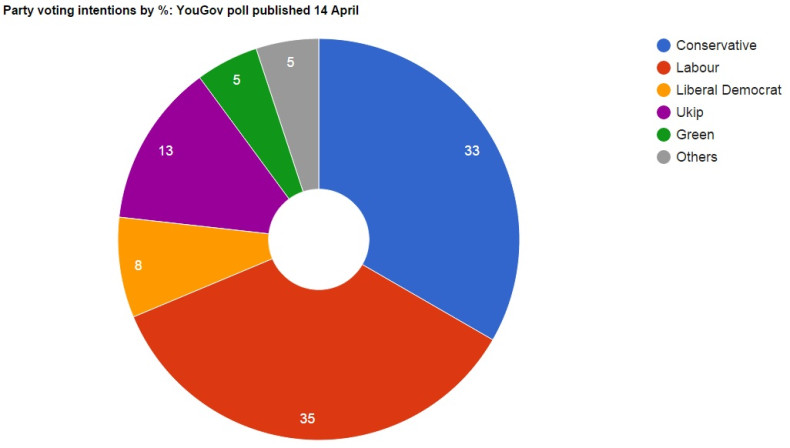 Conservative 33%
Labour 35%
Liberal Democrat 8%
Ukip 13%
Green 5%
Others 5%
YouGov poll for The Sun - 2,444 adults surveyed between 12-13 April 2015. Margin of error +/-2%
Conservative 33%
Labour 34%
Liberal Democrat 8%
Ukip 13%
Green 6%
Others 5%
TNS poll - 1,192 adults surveyed between 9-13 April 2015. Margin of error +/-3%
Conservative 34%
Labour 32%
Liberal Democrat 9%
Ukip 14%
Green 5%
Others 6%
Guardian/ICM poll - 1,042 adults surveyed between 10-12 April 2015. Margin of error +/-3%
Conservative 39%
Labour 33%
Liberal Democrat 8%
Ukip 7%
Green 7%
Others 5%
Lord Ashcroft Poll - 1,003 adults surveyed between 10-12 April 2015. Margin of error +/-3%
Conservative 33%
Labour 33%
Liberal Democrat 9%
Ukip 13%
Green 6%
Others 8%
YouGov poll for The Sun - 1,717 adults surveyed between 11-12 April 2015. Margin of error +/-3%
Conservative 33%
Labour 36%
Liberal Democrat 7%
Ukip 13%
Green 5%
Others 5%
YouGov poll for The Sunday Times - 1,887 adults surveyed between 10-11 April 2015. Margin of error +/-3%
Conservative 34%
Labour 34%
Liberal Democrat 7%
Ukip 13%
Green 6%
Others 6%
YouGov poll for The Sun - 1,782 adults surveyed between 9-10 April 2015. Margin of error +/-3%
Conservative 33%
Labour 35%
Liberal Democrat 8%
Ukip 13%
Green 5%
Others 5%
YouGov poll for The Sun - 1,938 adults surveyed between 8-9 April 2015. Margin of error +/-3%
Conservative 35%
Labour 34%
Liberal Democrat 8%
Ukip 12%
Green 4%
SNP/Plaid Cymru 5%
Others 1%
Survation poll for the Daily Mirror - 1,111 adults surveyed between 8-9 April 2015. Margin of error +/-3%
Conservative 31%
Labour 35%
Liberal Democrat 9%
Ukip 15%
Green 4%
SNP 4%
Others 2%
YouGov survey for The Sun newspaper - 1,672 adults surveyed on 6-7 April 2015. Margin of error +/-3%
Conservative 33%
Labour 35%
Liberal Democrat 8%
Ukip 14%
Green 5%
Others 5%
YouGov survey for The Sunday Times - 1,906 adults polled on 3 - 4 April 2015. Margin of error +/- 2%
Conservative 34%
Labour 33%
Liberal Democrat 10%
SNP/Plaid Cymru 5%
Ukip 13%
Green 4%
Others 1%
Opinium poll on behalf of the Observer - 1,974 adults surveyed on 2 - 3 April 2015. Margin of error +/- 3%
Conservative 33%
Labour 33%
Liberal Democrat 7%
SNP 4%
Ukip 14%
Green 7%
Others 1%
Latest YouGov survey for the The Sun - 2,001 adults surveyed on 29 - 30 March 2015. Margin of error +/-2%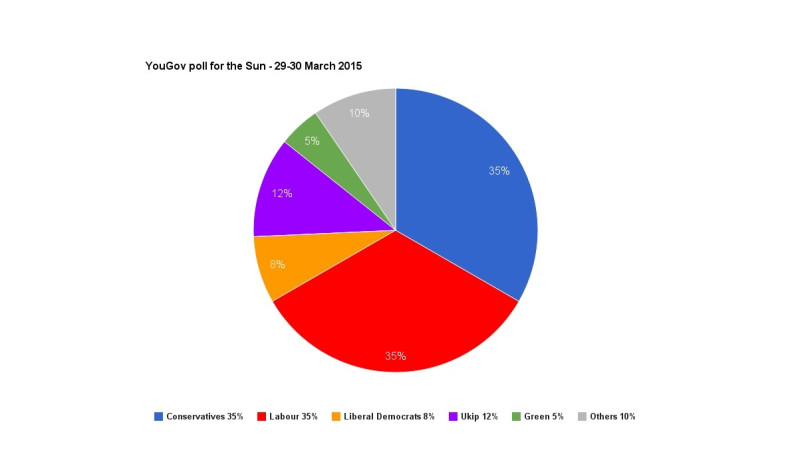 Ashcroft National Poll - 1,004 adults surveyed on 27 - 29 March 2015. Margin of error +/-3%
Conservatives 36%
Labour 34%
Liberal Democrat 6%
Ukip 10%
Green 7%
Others 6%
ComRes poll for ITV News / Daily Mail - 1,005 adults surveyed on 28 - 29 March 2015. Margin of error +/-3%
Conservatives 36%
Labour 32%
Liberal Democrats 9%
Ukip 12%
Greens 5%
Others 7%
Populus Poll - 2,004 adults surveyed on 27 - 29 March 2015. Margin of error +/-2%
Conservatives 34%
Labour 34%
Liberal Democrats 8%
Ukip 15%
Greens 4%
Others 5%
TNS - 1,197 adults surveyed on 26 - 30 March 2015. Margin of error +/-3%
Conservatives 33%
Labour 32%
Liberal Democrats 8%
Ukip 16%
Greens 5%
Others 7%