Alistair Charlton takes a look at the UK electric car market, including government grants, availability of chargers, range anxiety and a look at what cars are on sale.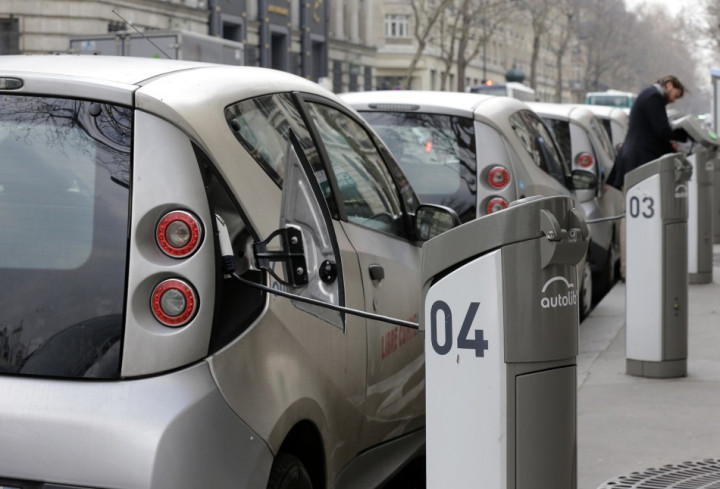 With Tesla's share price up almost 500% in the last 12 months and a European launch of its 300-mile range Model S on the horizon, the electric car market is making ever-larger steps to becoming a reality, as BMW, Volkswagen, Ford, Tesla and others queue up to prove that internal combustion isn't the only option.
Government grant
The government will subtract 25% from the price of a new electric car, up to £5,000, and 20% from any new electric van, up to £8,000.
The grant applies to all buyers of plug-in cars and vans in the UK - that is, vehicles which can be plugged in and charged from the mains, including cars which combine an electric motor and petrol engine, like the Vauxhall Ampera.
Companies looking to add electric vehicles to their fleet can also benefit from the grant, and according to NextGreenCar.com, of the first 100 grant applications only four came from private buyers - electric cars may be more expensive than their combustion cousins, but significantly lower running costs, no road tax and no London Congestion Zone charge make them attractive to corporate fleet buyers, when up front cost is only half the equation.
As of 30 September, 5,702 claims for electric vehicle grants have been made.
Where can I charge?
The government's Plugged-in Places initiative aims to populate towns and cities with roadside charging points for drivers to use.
There are currently more than 5,000 car chargers in the UK. Of these, almost 3,000 are classified as 'Fast' meaning they can fully charge a car in three to four hours; a further 147 'Rapid' chargers can fill an empty battery to 80% in around 30 minutes. Finally, there are 2,000 'Slow' chargers which take between six and eight hours to fill a car from zero to 100%.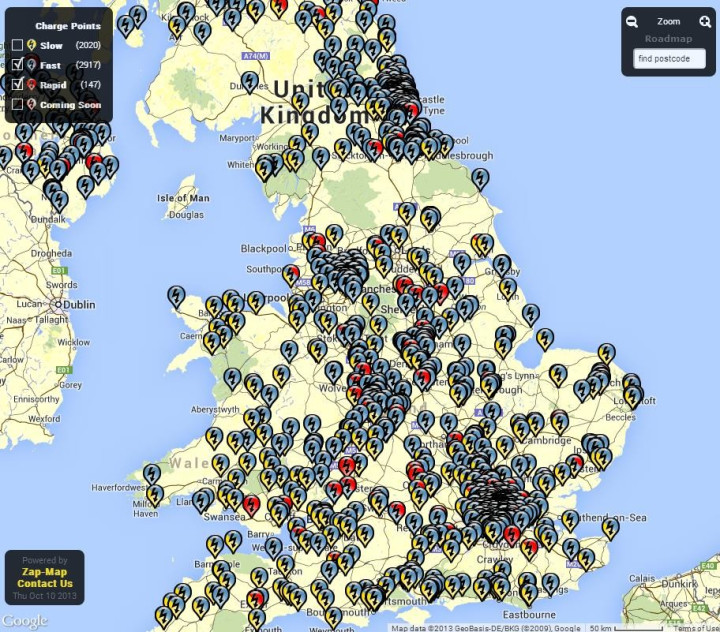 This compares to around 8,400 petrol stations, but due to multiple pumps at each station and refill vs charging times, closely comparing the two isn't yet possible, but it's a step in the right direction.
Tesla CEO Elon Musk recently showed off a battery swap system allowing Model S owners to exchange their empty battery for a fully charged one in 90 seconds. The swap will cost between $60 and $80 (£36 - £50) - about the same as refilling a similarly-sized car with petrol.
Telsa has said it will build its own network of charging points in the UK when it launches here next year, but these chargers will only work with Tesla models, and Tesla cars won't be able to make use of the existing charger network - highlighting the problems facing the nascent sector to get industry-wide standards in place.
What can I buy?
Just a few years ago your choice of electric vehicles in the UK was severely limited, with the G-Whizz being the most popular. Considered a quadricycle rather than a proper car, the G-Whizz is so small it can be parked nose-on to the curb and two can fit into a regular parking space, but refinement was stripped back to a bare minimum and safety concerns arose after a crash test performed by the BBC highlighted major shortfalls if the vehicle crashed into a regular car.
Since then, the market has grown and now Renault, Nissan, Mitsubishi, Citroen, Smart, Ford and Vauxhall are selling electric cars in the UK, and soon they'll be joined by Tesla and BMW. Below is a selection of electric cars on sale now, and coming next year.
(All prices include any government grant available)
Renault Twizy - £6,895 plus £45 per month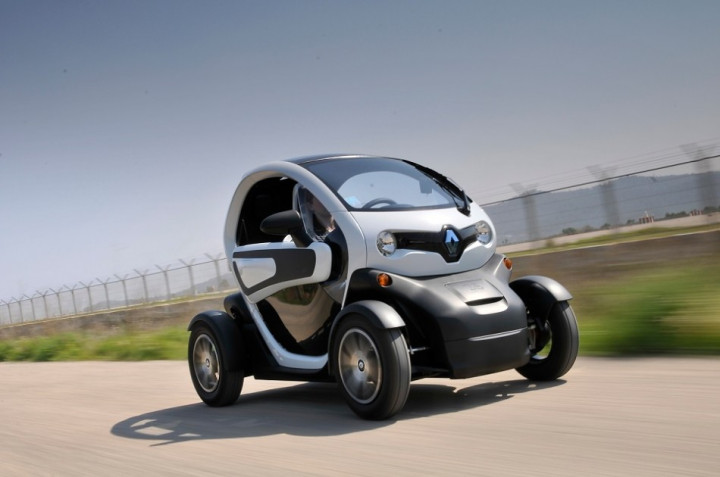 Because the batteries of electric cars have a finite life cycle and are expensive to replace, Renault has taken the route of producing a very cheap car and charging a monthly fee for the battery. Drivers essentially hire the battery pack, and when a new one is required - after so many charges, its ability to retain charge will fall - they are replaced for free.
The Twizy is the cheapest electric car on the market, but is a very small two-seater whose looks (and lack of doors) will not appeal to everyone. It's 60 mile range is low, but then it's tiny size means it's unlikely to leave the city centre.
One of the first all-electric cars to be sold in the UK, the Leaf is a 'proper' car compared to the Twizy, with four doors and five seats. But the extra space for batteries doesn't give the Leaf a huge range - you'll need to recharge after 80 to 100 miles depending on the model you buy.
Ford Focus Electric - £28,500
Recently driven by IBTimes UK, the Focus Electric looks identical to the regular Focus. The battery packs add 300kg to the overall weight, and although the electric motor provides more initial torque than the petrol or diesel versions, the excess weight can always be felt - and storing batteries behind the rear seats significantly reduces boot space.
The Focus Electric is almost £10,000 more than a petrol alternative with the same 'Titanium' trim level, and the 100 mile range is still a limiting factor for many drivers. Ford is taking orders now, with deliveries starting early next year.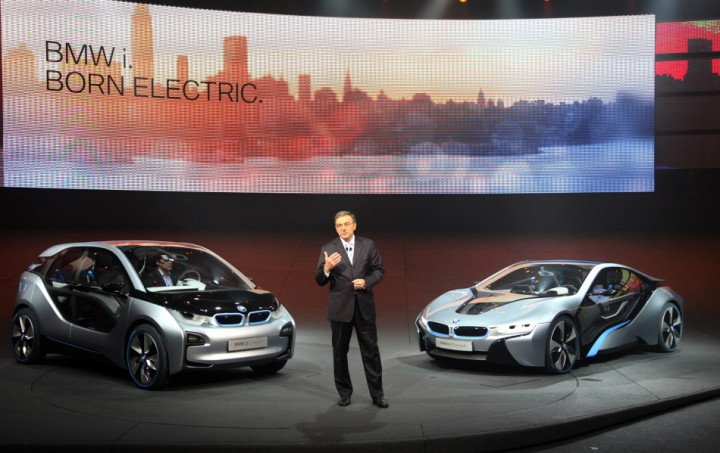 An all-electric city car, the i3 has four seats, a futuristic design and impressive performance thanks to a lightweight aluminium and carbon fibre construction. Described as a "revolutionary step towards sustainable mobility" by BMW chief executive Norbert Reithofer, the i3 can match the Focus' 100 mile range, but at 7.2 seconds, it is almost four seconds quicker to 60 miles per hour, with an electronically limited 100mph top speed.
For £28,830 BMW will sell a Range Extender edition of the i3, which adds a small petrol engine capable of doubling the car's range.
Borrowing its design cues from the i3, the i8 will be BMW's first attempt at a hybrid supercar, combining electric and petrol power in a sleek car capable of 155mph. The car can drive up to 22 miles on batteries alone, or combine them with the 1.5-litre turbocharged engine to output 356 bhp, accelerate to 60mph in 4.4 seconds, and cover more than 400 miles between stops.
Tesla Model S - circa £60,000
Finally, the Tesla Model S will be coming to the UK sometime next year, along with a dedicated network of fast charging stations constructed by Tesla itself.
The Model S is a large, four door family saloon car which can travel up to 300 miles on a single charge, and its interior features a 17in touchscreen display in the dashboard, controlling everything from the car's lights and music, to the air conditioning, windows and sunroof.
Storing the heavy batteries in its floor, the Model S has a much lower centre of gravity than any petrol saloon cars, aiding handling and stability.
Electric Cars: Catch 22
The electric car industry is in a catch 22 situation. Manufacturers are reluctant to invest heavily until a widespread charging network quashes consumers' 'range anxiety', while the government isn't willing to blow money on chargers until there are enough vehicles on the road to justify them.
For now, manufacturers have proved the concept works but concerns about the difficulties of producing and recycling batteries remain, as does the argument of where the electricity comes from - and who pays for it.
The electric car will play an ever-increasing role in how we get around, but for now it remains very much a work-in-progress.