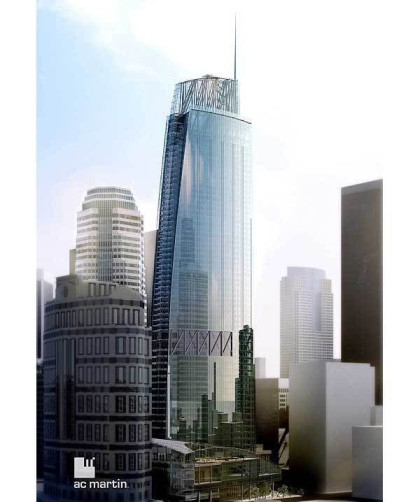 An electrician plunged 53 storeys to his death on his second day on Los Angeles' highest construction site and landed on a car travelling along Wilshire Boulevard.
The worker plummeted from the Wilshire Grand Center that will reach 1,110 feet (335m) when completed and be the tallest building in the US west of Chicago.
But police and state workplace safety investigators said the incident was "not work-related", according to Turner Construction Company officials.
The man was "not performing any functions related to his employment or his work" when he died, a spokeswoman told KTLA-TV, but offered no further details.
He reportedly wasn't wearing any safety gear, including a helmet or a harness, but a Turner statement said that "after an initial on-site investigation," officials "confirmed that no fall-protection violations were observed".
The worker landed on the back of a car as it was travelling. The female driver was taken to a nearby hospital. She appeared to be uninjured but was in shock, according to a responding paramedic.
As emergency worker told the Guardian that the scene was "very gruesome," adding: "You can imagine. It's been a bad day for everybody."
The man fell from a floor above where windows had already been installed. The windowless floors are surrounded only by waist-high barricades. The LA county coroner's office and the district attorney's office are both continuing to investigate.
A statement from Turner Construction Company said: "Our thoughts and prayers are with the worker's family. We will do everything we can to understand what happened here today and prevent it from happening again."
The site will be shut down for two days for an investigation by the California Division of Occupational Safety and Health.
Work on the building been going on for about three years, with some 1,000 men and women employed on site every day. The skyscraper had just topped out at 73 storeys four days before the death.
---
The Samaritans provides a free support service for those who need to talk to someone in the UK and Republic of Ireland. It can be contacted via Samaritans.org or by calling 116 123 (UK) or 116 123 (ROI), 24 hours a day, 365 days a year.