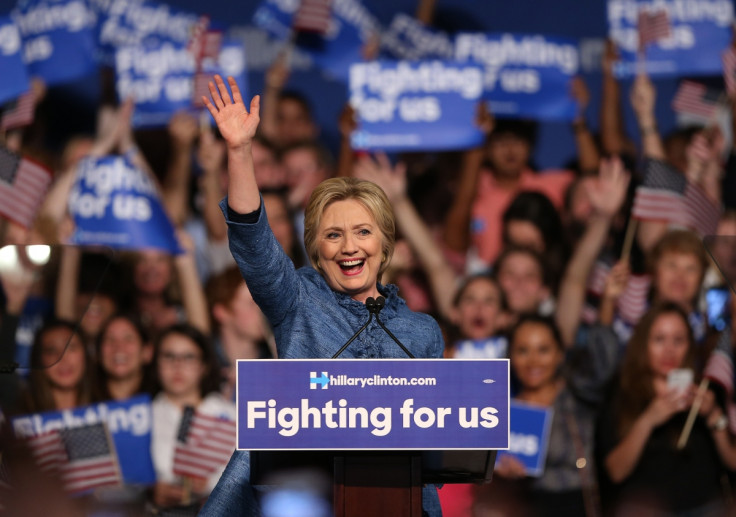 Hillary Clinton was declared the winner of the Missouri primary on 17 March, two days after voters went to the polls for Mega Tuesday. The latest victory means Clinton swept the 15 March primaries, taking home wins in all five states.
The Associated Press called the race, which had been too close to project, around 6pm EDT/10pm GM. Clinton's only democratic rival, Vermont Senator Bernie Sanders, told the AP he will not request a recount of the vote. "I prefer to save the taxpayers of Missouri some money," he said.
Voter data reveals Clinton secured the win with 1,531 votes, earning 49.6% of the vote to Sanders' 49.4%. Each candidate were allocated 32 pledged delegates from the Show-Me State. According to the AP, Clinton also received the support of 12 unpledged delegates, or superdelegates. Missouri is the 18th contest the former secretary of state has won during the primary season.
The five wins on Mega Tuesday pushed Clinton one significant step closer to clinching the Democratic nomination. Clinton now has 1,139 pledged delegates and 467 superdelegate, bringing her to an impressive 1,606 delegates. Sanders has 825 pledged delegates and 26 superdelegates, giving him a total of 851 delegates. Democrats need 2,383 delegates to win the nomination.
According to ABC News, Sanders campaign spokesman Michael Briggs emphasised that the two candidates split delegates evenly in Missouri and Illinois and said his candidate is looking ahead to the remaining contests. "He's taking the contest all the way to the Democratic National Convention in Philadelphia," Briggs said.
On the Republican side, the Missouri race remains too close to project, with Donald Trump and Ted Cruz locked in a virtual tie at 41%. ABC News reported the two candidates are separated by 1,726 votes with 100% of precincts reporting and 99% of the vote in. Trump, who won in three states on Mega Tuesday, is leading.