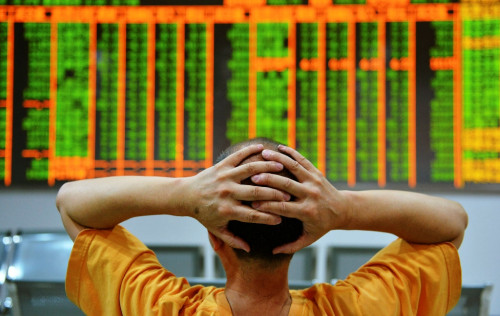 Emerging market equities were headed for their biggest weekly gain since October 2013, after valuations dropped to their lowest level since 2006 when compared to developed-nation equities.
The MSCI Emerging Markets Index added 0.5% to 950.85 at 14:19 hrs in Hong Kong on 14 February. The gauge was on track to log a 1.5% gain for the week as a whole, the most since the week ended 18 October, 2013.
Meanwhile, many experts said this week that cheaper stocks, a result of the recent emerging-market sell-off, presented a huge buying opportunity and that rich investors were boosting their holdings.
Buying Opportunity
BlackRock chief executive Laurence D. Fink said on 11 February that the worst start of the year for emerging market stocks since 2009, had provided a buying opportunity.
Developing nations' equities were attractive because of their low valuations relative to the potential growth rates in those countries, Fink said.
Market participants should buy Indonesian equities because of the country's expanding economy and a debt-to-gross-domestic-product ratio that's lower than most of European countries, Fink added.
Better Defences
Goldman Sachs Group CEO Lloyd Blankfein said on 11 February that emerging markets were in a better position to withstand any turmoil at the international level, including a retreat of global investors in the wake of the US stimulus taper.
Blankfein said developing countries were in a better position now to weather capital outflows than in 1998, when currency turmoil forced international bailouts.
Earlier, Royal Bank of Scotland's wealth management arm, Coutts, said that its wealthy clients were taking advantage of this year's emerging-market rout to increase their holdings.
Emerging markets now have "better reserves, more flexibility in exchange rates, better policy orientation", Blankfein said.
"If you look at the balance of trade that our clients are doing, they're buying," said Gary Dugan, the chief investment officer in Asia and the Middle East for Coutts, which counts Queen Elizabeth II among its clients.
"There's been an appetite for Asia and for Russia after the sell-off. There's no crisis, it's just talk," Dugan told Bloomberg on 10 February.
EM Stocks Drop
Fink, who heads the world's largest money manager with $4.3tn in assets, joined Templeton Emerging Markets Group's Mark Mobius and Aberdeen Asset Management in recommending developing-nation equities.
The MSCI emerging markets gauge, the index that best represents developing-nation stock markets as a whole, has declined 5.2% this year and trades at 9.2 times projected 12-month earnings.
By comparison, the MSCI World Index has dropped 1.1% this year and is valued at 14.7 times, Bloomberg data showed.
EM Slowdown
Business activity across emerging market economies expanded at the slowest pace in four months in January, after being pulled down by sluggish services sectors in the BRIC economies.
HSBC's composite Emerging Markets Index of manufacturing and services purchasing managers' surveys slid for a second straight month to 51.4 in January, from 51.6 in December 2013.
The January score was the lowest since September 2013, and stayed under the 2013 average of 51.7, and was well below a reading of 64.1 posted in January 2013.
However, the monthly index remained above the 50 mark that demarcates an expansion in activity.