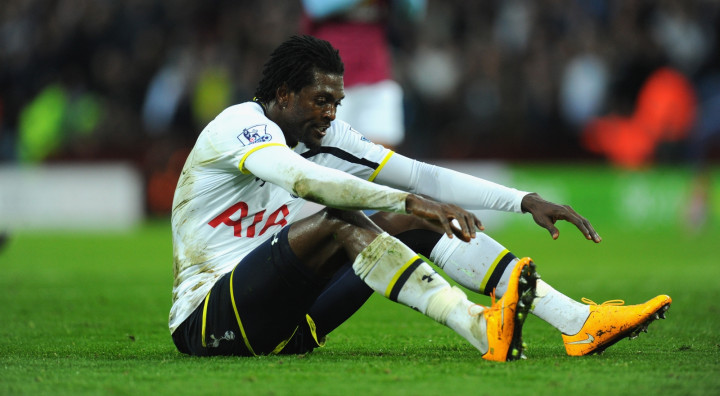 Emmanuel Adebayor has claimed that Tottenham Hotspurs fans are to blame for the side's disappointing start to the campaign, rather than new manager Mauricio Pochettino.
The Argentinian boss arrived to White Hart Lane this summer following a sensational spell at Southampton in order to return the Spurs to the Premier League top-four.
But having only secured 14 points from the 11 first Premier League games of the campaign, the Argentinian manager is coming under increasing scrutiny after his side lost their fourth home game of the season to Stoke City on Sunday.
Even though Adebayor started the game on the bench, he has backed his boss while claiming Tottenham supporters are the guiltiest party in the struggled situation.
"This the third or fourth manager in two or three years so we just have to stop it now being about the manager. He's a good manager and we just have to find a way so that we can try to understand what he wants to tell us and how he wants us to play and put that on the pitch," the striker said, according to Daily Mail.
"We have to get used to him. He is the new manager and it is tough. Tactically, he is working hard, he is trying to make us understand what the opponents will try to do and what we have to do to score goals and win the games.
"But at the moment there is a blockage somewhere. Hopefully we can overcome that. Football is a funny game, like I said. You play one game and score one goal and everybody says 'Hey, things have changed for you.'"
At the same time the striker has launched an attack to his own fans, even claiming that Tottenham should consider to play away from White Hart Lane in the coming games.
"When you are playing in front of your own crowd you want them to support you, but now it is like going through a sad moment and your family not welcoming you home," said Adebayor.
"That's the worst thing ever because you have nowhere to go. At the moment I don't know whether we should play at home or whether we should play away."
After the International break, Spurs will travel to Hull before a home game against Everton.
"[At Hull] at least you know I am going to be having the majority of opposition fans booing me rather than our own fans booing me. And I am not just talking about me, I am speaking on behalf of all the players.
"I think it might be better to play away from home at the moment because at least we know beforehand we are guaranteed to be booed because they want their home club to win."