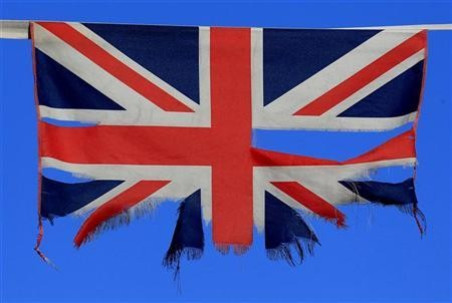 Britain's economic recovery could lose momentum as energy price hikes and lower wages begin to eat into households' disposable income.
The latest Markit Household Index indicator of household confidence is held at 41, which is well below the 50 mark that indicates Britons are optimistic about their finances. The indicator score is attributable to a fall in job security and frozen wages.
Despite the dampened sentiment on household finances official government figures on Friday will show economic growth for the third quarter of at least 1%.
The Bank of England's chief economist Spencer Dale said less than a week ago that growth is running at an annualised rate of 3-4%. GDP and grew by 0.7% in the three months to July.
"The mood among UK households is less downbeat than has been the case for most of the past four and a half years," said Tim Moore, senior economist at Markit.
"However, signs of an outright improvement in financial wellbeing are thin on the ground as incomes continue to lag behind living costs."
Markit said the October survey indicated households expected their finances to deteriorate over the next 12 months over fears of redundancy.
Only just over a quarter of respondents expect them to improve.
Wages edged 0.7% higher in the three months to the end of August while inflation was 2.8%, only falling to 2.7% in September.
However, Markit's survey revealed that households in the top fifth income bracket recorded the most positive reading since the series began in 2009.
Meanwhile, the reading hit 60.6, in contrast to 33.6 for the lowest 20% of households.
Energy Price Hikes
Britain's household finances are being squeezed by a prolonged, significant rise in energy prices, driven by the 'big six' companies which together account for 99% of the country's energy sector.
Centrica said it will raise its household charges for electricity and gas by an average of 9.2% from November. Meanwhile, British Gas said its electricity and gas prices will rise by 10.4% and 8.4% respectively, from November 23.
Only a week ago, SSE announced it will raise its charges for electricity and gas by an average of 8.2%. RWE npower is expected to unveil its energy price increases this week.
Lloyds Bank said that although its consumer sentiment survey reached an all-time high in September, the spate of energy bill increases has caused concern, centring on the impact it will have on disposable income.
"A softer improvement in confidence about the future situation appears consistent with areas of pressure on consumer budgets against a backdrop of static wage growth," said Lloyds.
"Although gas and electricity spending growth has eased a little in September to around 8% on a year ago, gas and electricity prices remain a source of concern for overall price inflation for 77% of respondents."
Meanwhile, accountancy giant Deloitte warned that a slowdown in economic growth could be due to energy price hikes impacting disposable income.
"Rising consumer confidence seems to reflect optimism about the economy, a stronger jobs market and a better outlook for housing," said Deloitte's chief economist Ian Stewart.
"The central problem for UK consumers remains, as it has for the last three years, declining spending power.
"After taking out inflation and tax changes, earnings have fallen by about 1.5% in the last year. This actually represents an improvement compared [with] the fierce income squeeze of 2010 and 2011, but it leaves consumer spending power on a declining path.
"The key to a sustainable recovery in consumer activity is falling inflation and a pickup in earnings."