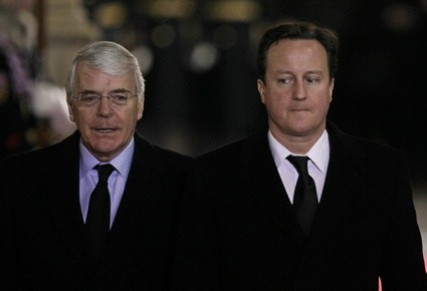 David Cameron has rejected proposals for a tax to be slapped on energy companies' excess profits suggested by his predecessor, Sir John Major.
As Labour leader Ed Miliband hailed Major's suggestion of a "snowfall tax" as a vindication of his view that Cameron always stood up for big business, the prime minister's spokesman said the idea was "an interesting contribution" but added the government "have no plans to do this".
The spokesman claimed that the government was already helping those most affected by forcing companies to put customers on the lowest tariff and creating more competition in the energy market.
The announcement of the creation of the first new nuclear power station in a generation - at Hinkley Point - was an example, he said.
And he rejected Major's claim that energy price rises left some consumers with a choice of eating or heating.
"There are a number of things the government is doing to support vulnerable people. But we have no plans to do this [snowfall tax]. We have a range of ways in which support is given and these are the right ones," he said.
Major stepped into the dominant political issue of the day by telling political journalists that Miliband had shown his heart was in the right issue over energy bills although his solution was wrong. A one-off tax on company profits should be used to fund relief for the worst affected by price rises, said the ex-Tory premier.
He later told the BBC that there was a "crisis" in the energy market and that the government would have to increase the amount of assistance it gave to people in the event of a cold winter.
Miliband said that Major had "made Labour's argument that David Cameron stands up for the energy companies not hard-pressed families".
And shadow Cabinet Office minister John Ashworth said it was "deeply embarrassing for David Cameron that a man famous for not wanting to criticise his successors would come out and say what everyone else is thinking".
The latest development puts huge pressure on Cameron to respond to Miliband's pledge to freeze energy prices for 20 months if he is elected in 2015.
Ministers have failed to come up with a compelling, popular alternative and some now believe Major's proposal might be the best way forward to get the government off the hook.