New Zealand v England: England Don't Give a Toss, and Who Can Blame Them?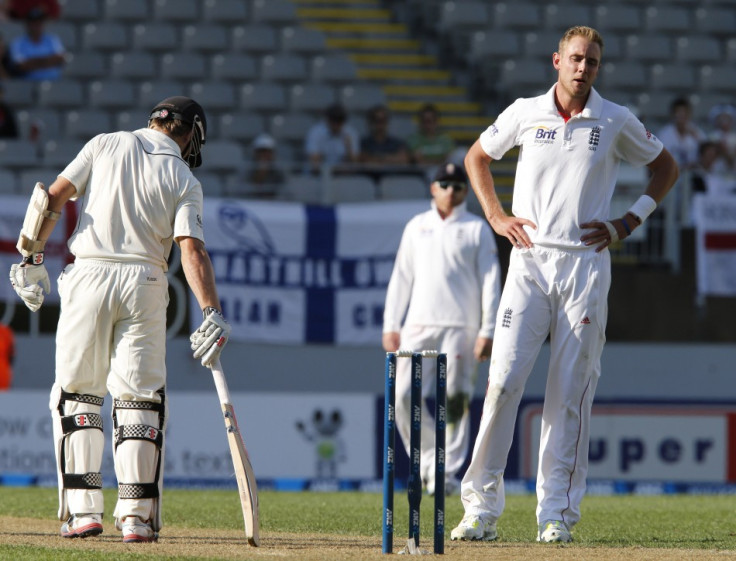 Without wishing to be harsh, it's fair to say future generations of cricket followers won't mention the name Peter Fulton in the same breath as Don Bradman or Garry Sobers. The New Zealand opener is to cricket what Shaun Derry is to football, hard-working but limited, the personification of the word 'journeyman'. Before his team's current match with England, Fulton had never scored a test century. He is 34 years old.
However yesterday Fulton looked like Sachin Tendulkar as he hammered the ball around, brutalising England's much-vaunted pace attack on the way to a maiden test ton. The other members of New Zealand's top three seemed to enjoy the bowling as well; England managed only one wicket all day, and that was due to a shot so bad Geoffrey Boycott's mum would probably have smashed the dressing-room window with her stick of rhubarb in frustration had she played it.
New Zealand's first day score of 250 for 1 means they have now scored 412 runs for the loss of three wickets in their last two innings. And this after England lost their final warm-up game to a scratch XI and were bowled out for under 200 in the first test on a pitch flatter than Jessica Ennis's stomach. James Anderson may have displayed some frustration yesterday, but he was howling at the moon alone; England's fielding has been sloppy throughout the tour, while the bowling has lacked zip. Alistair Cook and Ian Bell have both given their wickets away on two occasions, and only Nick Compton has emerged with any credit.
After so many ragged displays, one would imagine the players to be smarting about their performance. But no, it seems everything is blissfully copacetic within the camp. Steven Finn has spent the last few hours tweeting about onesies and people farting in lifts, while Matt Prior has been bemoaning his misfortune in the ever-classy game of credit card roulette, a bling-encrusted lottery used to determine who pays for dinner each night, and Stuart Board has been talking effusively about plane rides and golf days. All in all, it's hard to escape the conclusion England are treating the New Zealand series like a sporting version of dress-down Friday, doing their jobs with the bare minimum of effort before they can clock off and get stuck into the beers.
Ultimately, and unfortunately, this attitude is completely understandable. England crossed the rubicon by winning in India three months ago; the New Zealand series was always going to be viewed as a molehill next to that Himalyan peak, a glorified net session before the real business starts this summer with back-to-back series against Australia. For all Cook's insistence that Kevin Pietersen really, really, really wanted to play in the current match, it's hard to escape the feeling that England's marquee batsman, like spinner Graeme Swann before him, thought it best to get back to England and have his injury fixed so he can have a crack at the Australians. Had the match really counted, he would have played.
The romantics might say this sort of prioritising is a disgrace, a dereliction of the players' duty and a violation of the traditions of English cricket. But unfortunately, the modern international cricketer has to pick and choose when to pull his tripe out. Last year England played 15 tests, 12 One-day internationals and 16 T20s, including the annual World Cup. That's 103 days of cricket, or a match every three-and-a-half days - and this figure doesn't include the warm-up games at the start of each tour, or the occasions when the players dip their toes in the water of their domestic game. In the olden days a player might have coped with such a ridiculous schedule, but cricket these days is a hyperactive muscle-bound biff-fest, where even the big fast bowlers have to fling themselves around the boundary rather than lolloping around and wafting a boot in the vague direction of the ball like their predecessors.
Given the modern realities of international cricket, it's no wonder players such as Swann, Pietersen and Stuart Broad have suffered injury, and even less surprising that the players view fixtures again second-tier opponents such as New Zealand with apathy. What is baffling, however, is why the English management team, having agreed such an unsustainable schedule, cannot see the problems coming.
If the organisers of the English game, from Andy Flower upwards, had had any sense they would have allowed their star players to sit out the New Zealand tour. Jonny Bairstow, who has been drafted into the side in place of Pietersen, could have spent the entire tour keeping his No4 slot warm, enhancing his credentials as England's next master blaster. Likewise Stuart Meaker, Chris Woakes or James Harris could have been given a chance with the ball, ensuring England have plenty of back-up if any of their premier pace bowlers breaks down this summer.
But no, the management team decided to keep on flogging their dying horses, and so they cannot complain when the players' focus is diluted. Let the players who made history in India enjoy a few half-arsed days in the New Zealand sun; if it convinces their masters to take a more sensible approach to future tours, so much the better.
© Copyright IBTimes 2023. All rights reserved.