South Africa have all but claimed the rank of No 1 Test team in the world after a spirited assault on the hosts on the fourth day of the final Test at Lord's. The highlights of the day's action were yet another century from Hashim Amla (his 15th in 61 Tests) and a furious burst of bowling from the South African bowlers, with Vernon Philander sending both Andrew Strauss (1) and Alastair Cook (3) packing to leave England reeling at 16/2 at stumps.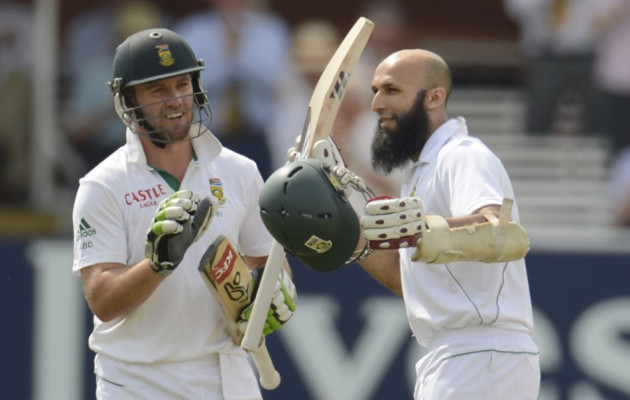 Day Four
Earlier in the day, the South Africans resumed from their overnight score of 145/3, with Amla and night-watchman Dale Steyn at the crease. The latter didn't last long, fending off a rising short one from Stuart Broad to James Taylor at short leg. That brought AB de Villiers out, and with Amla for company, South Africa progressed comfortably for a while, the pair putting on 95 for the fifth wicket before Amla (121) was castled by Steven Finn for the second time this match. By this time though, the score was 259, the lead a healthy 253 and with the threat of Steyn, Philander and Morne Morkel, not to mention Imran Tahir, to come, England could not afford to let South Africa have any more runs.
Fortunately for them, Finn returned to remove the threat of de Villiers (43) and Jacques Rudolph (110), to finish with match figures of 8/149 - a superb return from the Middlesex bowler. However, the South Africans bat very deep and despite England's best efforts, Jean-Paul Duminy (26*) and Philander (35) knocked the ball about for some very valuable runs, adding 54 for the eighth wicket before the latter fell to James Anderson. The South African second innings closed at 351, with a lead of 345.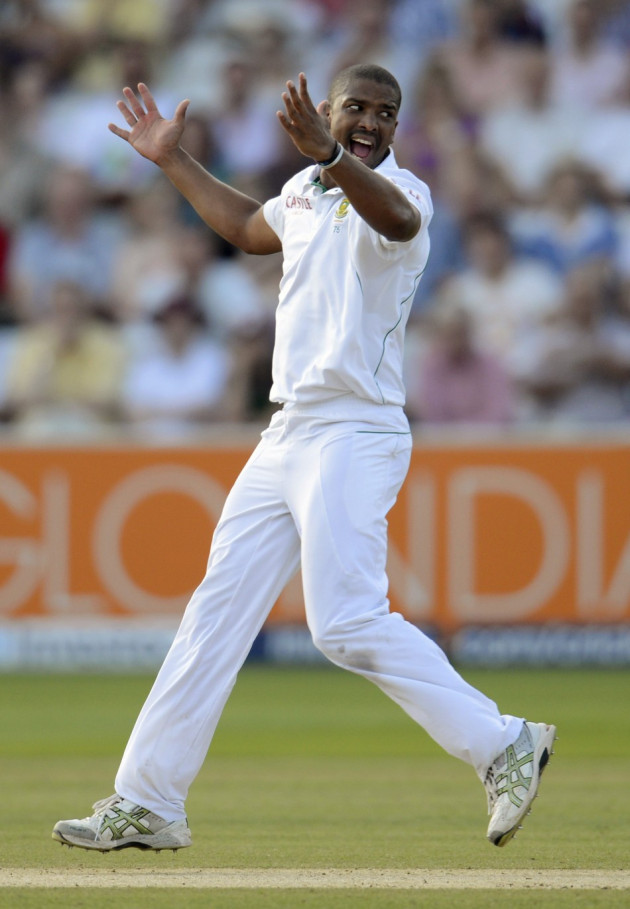 England would have had only objective when they came out to bat - to not lose wickets in the handful of overs that remained in the day. Unfortunately, no one told Philander, Morkel and Steyn that... or if they did, the trio didn't agree. Strauss and Cook were subject to a barrage of fast, short and hostile bowling. Philander struck in the second over (his first), trapping Cook in front with a ball that carried just enough inside the batsman's defensive line. The 27 year old wasn't quite done. He returned in his second over to do exactly the same thing he did in his previous one - trap the batsman absolutely plumb in front. Graeme Smith then introduced Steyn into the attack and the world's premier fast bowler responded a miserly spell of 5-2-4-0. The day finished with Ian Bell (3*) and Jonathan Trott (6*) at the crease.
Day Five
The hosts must play out 90+ overs tomorrow and they can be sure the South Africans will throw everything, including the kitchen sink, at them. Should they pick up one or two more early wickets tomorrow, this will no longer be about saving their No 1 ranking - it will become a lot simpler - save this Test match.
Philander has been in brilliant all-round form this match and already has bowling figures of 4/52. He will fancy adding to those, as will Steyn (4/98 so far) and Morkel (4/80 so far). The fact that all three of the visitors' front-line seamers have delivered in spades this series has been one of Smith's biggest trump cards. The batting hasn't been too shabby either, with Amla scoring 482 runs at an average of 120.50, Smith hitting 272 at 54.40 and Kallis finding 262 at 65.50. By contrast, England's leading run-getter isn't even playing this game - Kevin Pietersen, with 219 at 54.75.
The odds are stacked against England even managing to draw this Test, never mind winning it and saving their No 1 ranking. It isn't impossible, of course. Should Bell and Trott get off to a blindingly fast start, should England not lose any more wickets, should Steyn, Philander and Morkel suddenly lose their wicket-taking mojo, the hosts could still finish the day the top Test nation in the world... but that is unlikely.
Teams:
England: A Strauss (c), A Cook, J Trott, I Bell, J Taylor, J Bairstow, M Prior (wk), S Broad, G Swann, J Anderson, S Finn
South Africa: G Smith (c), A Petersen, H Amla, J Kallis, AB de Villiers (wk), J Rudolph, JP Duminy, V Philander, D Steyn, M Morkel, I Tahir
Umpires: Kumara Dharmasena (Sri Lanka) and Simon Taufel (Australia)
Where to Watch Live (all times BST):
You can follow the game live from 10.30 am to 7 pm on Sky Sports 1 and Sky Sports HD 1. Special commentary will be available on BBC 5 live sports extra, BBC Radio 4 LW and via the BBC Sport Web site.