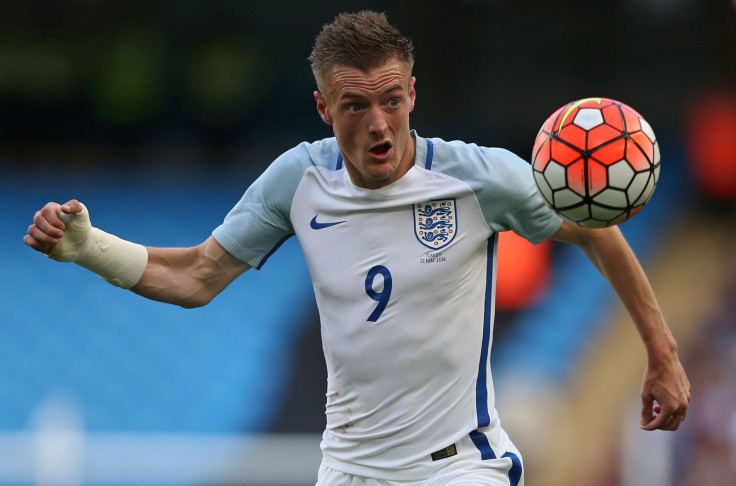 England striker Jamie Vardy will miss the second pre-European Championship friendly against Australia to attend his re-arranged wedding. Roy Hodgson will allow the Leicester City forward to get married on Wednesday [25 May] and though he will return to training later in the week he will miss the match at the Stadium of Light.
Vardy cancelled the original date schedule for June 2015 after being called up for the international friendly against Republic of Ireland and the Euro 2016 qualifier against Slovenia, and even adjusted the date in order to miss the summer tournament.
The game against Australia on Friday [27 May] is the last warm-up game before Hodgson must select his final 23-man squad for the summer finals. But not only has the former Fulham and Liverpool coach assured Vardy a place in the squad, but he has allowed him a day off less than three weeks prior to the opening group game against Russia on 11 June.
"Vardy will not be involved on Friday [against Australia] because he is getting married on Wednesday [28 May]," Hodgson told reporters after the 2-1 win. "You could say that is unfortunate but last year his wedding was planned during the month of June for the international matches, and he cancelled it. I think he deserves that possibility to get married.
"The major reason for it unfortunately, he had to cancel the wedding last year. Perhaps it is more difficult for me than it may have been otherwise to complain about this date. You must also remember that under normal circumstances Wednesday would have been about the time we were meeting up. We changed our preparation and only had three days. I am sure when he planned the wedding he thought he was going to get a week or 10 days off, and if he was called up he'd go straight in.
"To be honest we know Jamie, we have been satisfied with him and I don't think his place in the team and in the squad is under enormous threat and we do have other players we need to look at. In terms of a second preparation game it hasn't caused me any particular problems."
Vardy operated on the left of a front three as England limped to victory over Turkey at the Etihad Stadium. The 29-year-old scored the winner goal but failed to convince either in a wide position or in tandem with central-striker Harry Kane, who opened the scoring after two minutes before missing a second half penalty.
"At the moment the front two were what what we had," insisted Hodgson. "Kane and Vardy will face more competition when Sturridge turns up and when Rooney turns up and who knows we still have Rashford. We need to be able to play both systems. I don't believe that when you ask a player like Vardy, or Welbeck in the past, to play on the left side is anything that should cause him any particular problems. We've had great successful with Welbeck, Rooney and Sterling. We might recreate that with other players.
"We should not get ourselves hamstrung that if Jamie Vardy is going to play we can only play with one system. Jamie Vardy will be one of 23 players and there are other quality players that will look to compete with him for places. He was more than happy to play in either position and I think it was a success because he has come away with a goal. He is now going to celebrate his wedding on Wednesday so we won't see much of him for a few days. Competition is going to hot up for places when Rooney, Sturridge and Rashford join us."