Manchester United defender Rio Ferdinand has criticised England's U21 team for their performances at the European U21 Championships in Israel.
The English, led by Stuart Pearce (whose contract will not be renewed after it expires at the end of this month), were disappointing, slumping to defeats against Italy, Norway and the hosts in Group A.
England finished last in the group, with only one goal scored from 270 minutes of football. And the 34-year-old ex-senior international believes it is the lack of a national identity - a recognisable playing style - that has hampered his country's results in major international tournaments.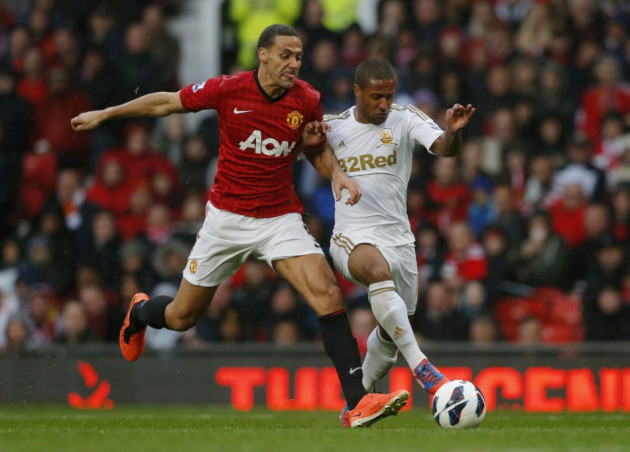 "If you watch Italy, Holland, Spain or Germany playing at youth level, you would know who they are without looking at their shirts. There is an identity with those teams. They have a DNA of the way to play. We don't have that. When we won the World Cup in 1966, we didn't copy anyone else," he explained.
Ferdinand made his England debut in 1997, as a 19-year-old, in a friendly against Cameroon. Since then, he has earned 81 caps for the national side and made it to the quarter final of the 2002 and 2006 FIFA World Cups.
"We played the way England play. It was our style and our identity. Have we kept it? I don't think so. It is all right saying you have some of the best players in the world but you have to put them together and play within a system that works," he added.
England trail Montenegro in the race for direct qualification to next summer's World Cup in Brazil. They have 12 points from six games, compared to the Montenegrin's 14. They do, however, have a game in hand.
Ferdinand's call to create a stronger youth system in the country makes sense, given the composition of the squad that took on Brazil in a friendly earlier this month. The midfield, for example, is still ruled by the likes of Steven Gerrard (who will be 34 years old next summer), Frank Lampard (36 next summer) and 31-year-old Michael Carrick.
"It does seem there is a plan in place but it will take a few years to come through. The question I would ask is 'are these coaches telling young kids to pass it to someone who already has a man marking them?' Are they saying "he has to learn how to deal with it"? I don't know if we are," he added.
"You give it to a young Spanish, Dutch, Italian, German kid, he will keep that ball until there is someone to pass it to. He won't just kick it away and say 'you shouldn't have passed it to me'. That is the way they are brought up," he concluded.