English Defence League March in Slough Turns Ugly [VIDEO]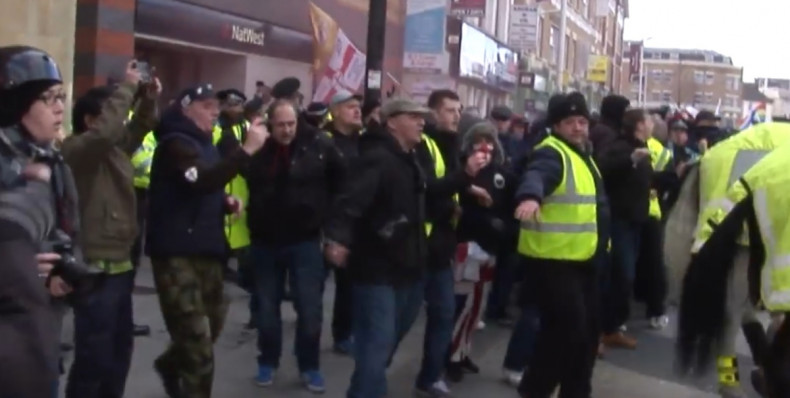 Four people were arrested and two police officers were injured after a march through the Berkshire town of Slough by the far-right English Defence League (EDL) met a counter-demonstration by the Anti-Fascist Network and Slough's Trades Union Council.
Thames Valley Police officers in protective clothing were on hand to deal with the demonstrations and "incidents of minor disorder".
Both sets of protesters had stated beforehand that their rival protests would be peaceful but some shops in the town, which has a large Asian population, closed their doors. Police estimate a total of around 600 people congregated in the area around Queensmere.
A smoke bomb was set off and missiles – including bottles and railings – were thrown at police. One police officer sustained facial injuries, the other a leg injury.
Slough's police commander Supt Simon Bowden said: "I am pleased that these demonstrations have passed off without major incident. Disruption was kept to a minimum and we are grateful for the support we received from local communities.
"There were a handful of arrests made over the course of the day, mainly for public disorder. However, the vast majority of those taking part were well behaved."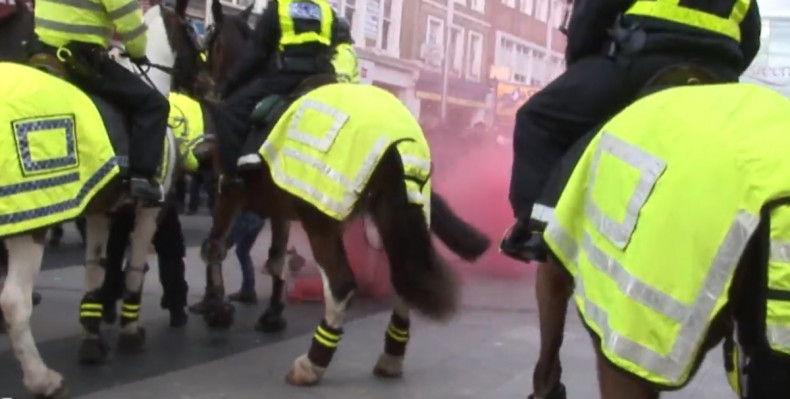 The EDL claim they chose to march through Slough – best known for John Betjeman's eponymous poem and as the setting for Ricky Gervais's fly-on-the-wall sitcom The Office – because of plans to open a Muslim-only free school and a Muslim community centre. The EDL invited Slough's Sikh community to join them on their march, though it is unclear if any Sikhs actually attended.
The leader of Slough Borough Council Rob Anderson said: "It was a shame that some elements felt the need to resort to violence but the police dealt with it swiftly and appropriately. Hopefully we can get back to normal in Slough now these groups have left our town."