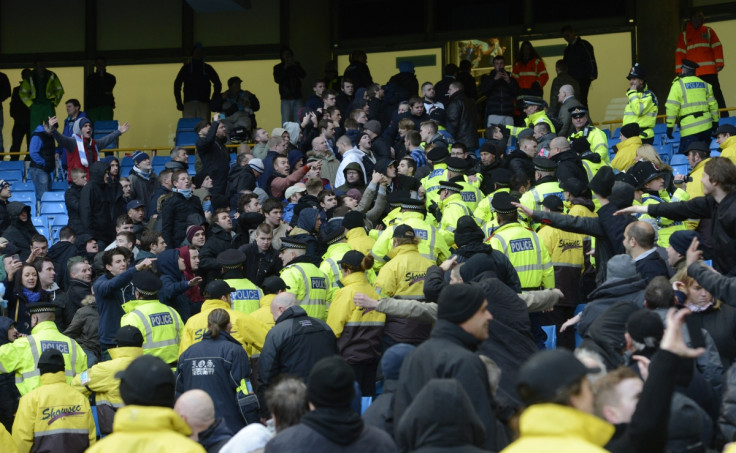 The Home Office has revealed the clubs with the most banning orders imposed on their fans across the Football League. Over the past five seasons, Newcastle United have had the highest number of banning orders with 132, followed by Chelsea (79) and West Ham United (67).
The figures show there were 2,181 football banning orders in force as at 8 September 2015, a decrease of 4% from 2,273 at 3 September 2014. This has continued the trend of the number of banning orders falling over the past five years, decreasing by almost a third (31%) from 29 November 2011.
Since September 2014, there has been a total of 484 new banning orders issued. The three clubs issued with the highest number of banning orders in the period were Bristol Rovers (31) Burnley (26) and Liverpool (23).
Banning orders can last between three and 10 years and be customised to address individual behaviour patterns. Anyone found breaching an order can face a maximum of six months in prison, a fine of up to £5,000, or both.
Below is the full list of every league club and the total number of banning orders imposed on their fans since as of September 2015. Fans can have multiple banning orders placed upon them, so the figures are not an indication on the number of fans subjected to bans.
| | |
| --- | --- |
| Premier League | Banning Orders |
| Arsenal | 36 |
| Aston Villa | 31 |
| Burnley | 54 |
| Chelsea | 79 |
| Crystal Palace | 31 |
| Everton | 25 |
| Hull City | 19 |
| Leicester City | 24 |
| Liverpool | 53 |
| Manchester City | 35 |
| Manchester United | 49 |
| Newcastle United | 132 |
| Queens Park Rangers | 19 |
| Southampton | 17 |
| Stoke City | 19 |
| Sunderland | 39 |
| Swansea City | 15 |
| Tottenham Hotspur | 37 |
| West Bromwich Albion | 21 |
| West Ham United | 67 |
| Total | 802 |
| | |
| --- | --- |
| Championship | Banning Orders |
| AFC Bournemouth | 5 |
| Birmingham City | 24 |
| Blackburn Rovers | 29 |
| Blackpool | 6 |
| Bolton Wanderers | 18 |
| Brentford | 14 |
| Brighton & Hove Albion | 11 |
| Cardiff City | 56 |
| Charlton Athletic | 16 |
| Derby County | 22 |
| Fulham | 5 |
| Huddersfield Town | 34 |
| Ipswich Town | 4 |
| Leeds United | 58 |
| Middlesbrough | 29 |
| Millwall | 64 |
| Norwich City | 3 |
| Nottingham Forest | 23 |
| Reading | 9 |
| Rotherham United | 18 |
| Sheffield Wednesday | 32 |
| Watford | 4 |
| Wigan Athletic | 7 |
| Wolverhampton Wanderers | 43 |
| Total | 534 |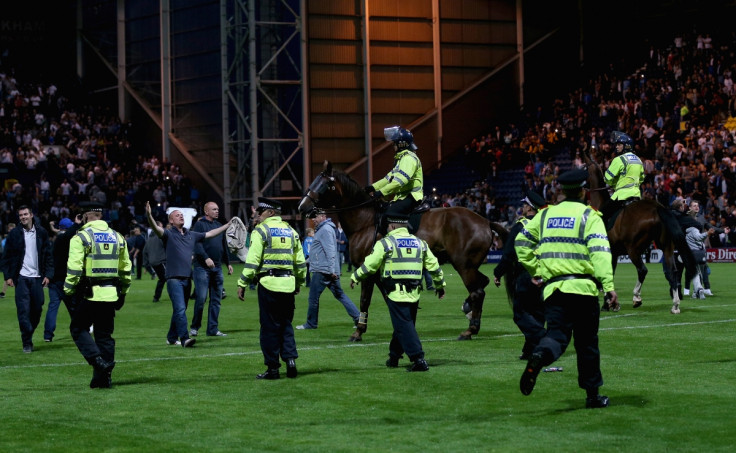 | | |
| --- | --- |
| League One | Banning Orders |
| Barnsley | 15 |
| Bradford City | 36 |
| Bristol City | 62 |
| Chesterfield | 30 |
| Colchester United | 2 |
| Coventry City | 27 |
| Crawley Town | 4 |
| Crewe Alexandra | 11 |
| Doncaster Rovers | 20 |
| Fleetwood Town | 3 |
| Gillingham | 7 |
| Leyton Orient | 7 |
| MK Dons | 1 |
| Notts County | 2 |
| Oldham Athletic | 10 |
| Peterborough United | 4 |
| Port Vale | 17 |
| Preston North End | 6 |
| Rochdale | 8 |
| Scunthorpe United | 35 |
| Sheffield United | 31 |
| Swindon Town | 15 |
| Walsall | 24 |
| Yeovil Town | 1 |
| Total | 378 |
| | |
| --- | --- |
| League Two | Banning Orders |
| Accrington Stanley | 0 |
| AFC Wimbledon | 4 |
| Burton Albion | 0 |
| Bury | 7 |
| Cambridge United | 4 |
| Carlisle United | 6 |
| Cheltenham Town | 0 |
| Dagenham & Redbridge | 14 |
| Exeter City | 6 |
| Hartlepool United | 24 |
| Luton Town | 27 |
| Mansfield Town | 9 |
| Morecambe | 2 |
| Newport County | 6 |
| Northampton Town | 3 |
| Oxford United | 14 |
| Plymouth Argyle | 20 |
| Portsmouth | 15 |
| Shrewsbury Town | 24 |
| Southend United | 3 |
| Stevenage | 1 |
| Tranmere Rovers | 6 |
| Wycombe Wanderers | 1 |
| York City | 8 |
| Total | 204 |
| | |
| --- | --- |
| Football Conference | Banning Orders |
| AFC Telford | 5 |
| Aldershot Town | 5 |
| Alfreton Town | 4 |
| Altrincham | 0 |
| Barnet | 0 |
| Braintree Town | 0 |
| Bristol Rovers | 54 |
| Chester | 17 |
| Dartford | 0 |
| Dover Athletic | 0 |
| Eastleigh | 0 |
| FC Halifax Town | 10 |
| Forest Green Rovers | 0 |
| Gateshead | 0 |
| Grimsby Town | 32 |
| Kidderminster Harriers | 6 |
| Lincoln City | 36 |
| Macclesfield Town | 4 |
| Nuneaton Town | 7 |
| Southport | 0 |
| Torquay United | 5 |
| Welling United | 0 |
| Woking | 1 |
| Wrexham | 18 |
| Total | 204 |