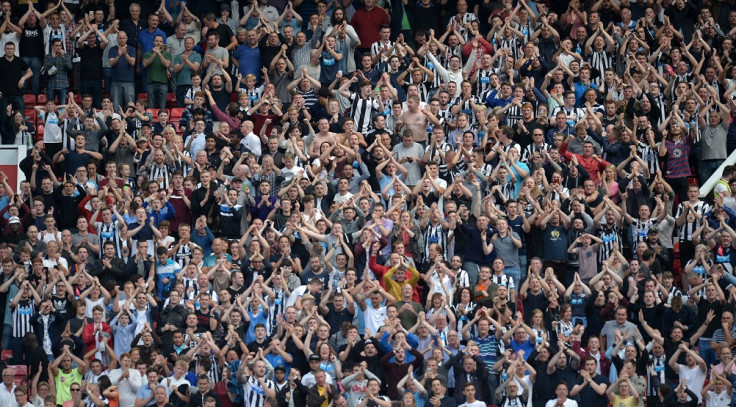 Newcastle United have been named as the English football team with the highest number of fan banning orders, way ahead of nearest rivals Chelsea and West Ham United. The Magpies had a total of 132 banning orders over the past five seasons, with Chelsea behind them on 79 and the Hammers with 67.
Championship side Millwall are in fourth place with 64, the highest placed team outside the Premier League. Fans can have multiple banning orders placed upon them, so the figures are not an indication on the number of fans subjected to bans.
The figures published by the Home Office reveal the number of banning orders in place as of September 2015 fell by 4% to 2,181 compared to the previous year, with the Premier League accounting for 37% (802) of the total number of banning orders.
Since September 2014, there has been a total of 484 new banning orders issued. The three clubs were issued the highest number of banning orders in the period were Bristol Rovers (31) Burnley (26) and Liverpool (23).
The Home Office also revealed there were 1,873 football-related arrests in the 2014/15 season, a decrease of 18% from 2013/14. Of these arrests, the three most common offence types were public disorder (34%), alcohol offences (22%) and violent disorder (16%).
Total number of Banning Orders in Premier League 2014-15
| | |
| --- | --- |
| Premier League | Banning Orders |
| Arsenal | 36 |
| Aston Villa | 31 |
| Burnley | 54 |
| Chelsea | 79 |
| Crystal Palace | 31 |
| Everton | 25 |
| Hull City | 19 |
| Leicester City | 24 |
| Liverpool | 53 |
| Manchester City | 35 |
| Manchester United | 49 |
| Newcastle United | 132 |
| Queens Park Rangers | 19 |
| Southampton | 17 |
| Stoke City | 19 |
| Sunderland | 39 |
| Swansea City | 15 |
| Tottenham Hotspur | 37 |
| West Bromwich Albion | 21 |
| West Ham United | 67 |
New Banning Orders by club between 2014-15
| | |
| --- | --- |
| Premier League | Banning Orders |
| Arsenal | 8 |
| Aston Villa | 11 |
| Burnley | 26 |
| Chelsea | 12 |
| Crystal Palace | 0 |
| Everton | 5 |
| Hull City | 3 |
| Leicester City | 3 |
| Liverpool | 23 |
| Manchester City | 3 |
| Manchester United | 11 |
| Newcastle United | 13 |
| Queens Park Rangers | 7 |
| Southampton | 1 |
| Stoke City | 4 |
| Sunderland | 8 |
| Swansea City | 4 |
| Tottenham Hotspur | 7 |
| West Bromwich Albion | 4 |
| West Ham United | 13 |