The prospect of having to pay more tax will not deter Google from investing in the UK say Eric Schmidt.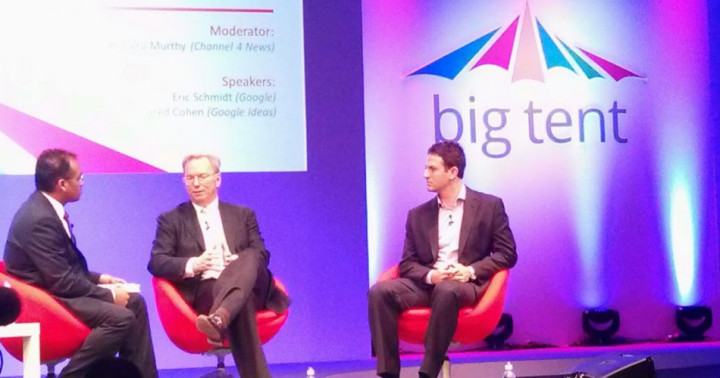 Google's executive chairman Eric Schmidt once again addressed the widespread criticism of the company's tax policies in the UK saying it is "trying to do the right thing."
Speaking at Google's Big Tent conference on Wednesday, Schmidt was speaking after Labour leader Ed Miliband took the same stage earlier in the day calling on Google to "do the right thing."
Schmidt said: "We are trying to do the right thing, we are not trying to do the wrong thing and we completely endorse the idea of having a big debate."
Miliband earlier said he didn't believe a change in the way companies like Google would pay taxes in the UK would necessarily scare off big business from basing their headquarters here and his beliefs were backed up by comments from Schmidt:
"Google will invest in the UK no matter what you guys do, because the UK is just too important for us. The citizens are too important for us and in our view we provide too much good. My guess is we will continue investing heavily in Britain no matter what."
Decades Old
Google was last week recalled before the Public Accounts Committee following an investigation by Reuters showed the evidence it had given at an initial hearing in November failed to mention that Google's London base was populated by a sales team.
One of the major problems is that tax legislation in force today was written decades ago when companies like Google, Amazon and Apple were not even in existence and the internet as it is today was just a dream.
Schmidt said: "Trust me I did not design such an irrational structure. It would not have been designed this way by a computer scientist I can assure you."
Transparency
Schmidt added that Google feels "very, very strongly that tax information and tax policies should be done completely transparently. I don't think companies should decide what tax policies should be, I think governments should."
Referencing a op-ed he wrote for the Observer newspaper last weekend, Schmidt said there needs to be a discussion talking place about these tax laws,K government agrees with.
According to the executive chairman virtually all major American companies operating internationally have similar structures to Google in place in order to minimise taxes and that European companies operating in the US have analogous structures. "This is how the international tax regime works. There is no question countries around the world need more money, look at the America. The fact of the matter is that if we pay more taxes in one area we pay less taxes in another."
Humanity
For all Google's claims about wanting to improve humanity and giving away products for free, it is in the business of making money and Schmidt warned that it does not want to come to a situation where it is triple or quadruple taxed. "So if you are going to have international taxes, figure out how to do it and to it in a way where you are not getting multiple taxed.
MP Stella Creasy asked Schmidt for help, saying she recognised the taxation system is struggling to keep up with how technology is created, asking how he would change the tax system.
Schmidt said he couldn't answer for Google but on a personal note said the most important thing to do is have a "rational system that is predicable and doesn't change very much, because [Google] can adapt to any structure. I don't think it is reasonable for people who have said that taxes should be the same everywhere, because taxes are a creation of culture over many, many decades."
Schmidt highlighted Ireland, which has been the focus of much of the tax issues with Google and Apple recently, saying it has had its low corporate tax rate for over 50 years.