Erik Lamela said he would like to renew his current deal at Tottenham Hotspur after putting all the exit speculation behind him to become a crucial player for manager Mauricio Pochettino. But the Argentina international said his focus right now is to help Spurs in the Premier League title race after their 3-0 victory over Manchester United saw them stay seven points behind Leicester City with five games to go, following the Foxes' 2-0 win at Sunderland earlier on Sunday (10 April).
The 24-year-old's future at White Hart Lane came under scrutiny in the summer after two seasons in which he struggled to justify the £26m record fee which Tottenham paid Roma to sign him in the summer of 2013. Marseille were reportedly interested in luring him to Ligue 1 while Lamela's father revealed conversations with Inter Milan to return to Serie A after he netted 15 goals in the season before his move to Spurs.
Lamela stayed at Tottenham instead and has turned the situation around, becoming a key member of the Premier League title contenders, scoring 10 goals and providing six assists in 39 appearances.
The Evening Standard reported last week that Spurs were now ready to reward him with a new contract. Lamela responded to those claims with a sensational performance against United, scoring a goal and setting up Toby Alderweireld for another during the frantic six-minute second-half spell which led to Tottenham's victory.
Questioned by IBTimes UK after the game about committing his long-term future to Spurs, he replied: "Yes, obviously. But the truth is that I know nothing about this because I have not talked to anyone about this. My father and my agent (deal with those things) but I just think about the next game and to stay focused on football."
"I always had my head in this club. There was much talk at the beginning of the season that I could leave but I felt that I owed something to the Tottenham fans. This year, thank God, things have changed a lot for me and I hope the improvement continues next season.
"My first season was not good. I had a very long-term injury. I had never had (an injury) issue before and I could not settle properly. I am very grateful to my team-mates because they have helped me a lot. We have helped each other a lot at Tottenham."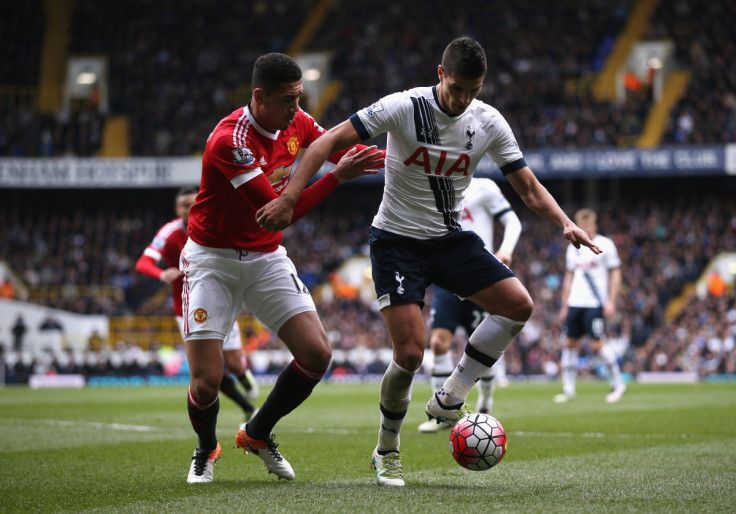 Lamela believes the strong relationship among all members of the Tottenham squad has been key to their sensational season. The Argentinian hopes their efforts pay off with the title, but if not he says there are plenty of reasons to be confident about the long-term future of the club.
"We do not know (if we can still win the Premier League)," he said to IBTimes UK. "We have to go game by game, try to win our games and do our best to give joy to the fans. Leicester are doing really well and while they keep winning we have no chance, but we have to keep playing for our prestige and our honour.
"The team is very young. We all want the same thing, keep improving, we train very hard to improve the minimum detail. That's the key to moving forward."
Reports have suggested Tottenham are also working to tie the likes of Mauricio Pochettino, Jan Vertonghen and Christian Eriksen to new deals in order to keep the base for the future.
Lamela added: "I hope that everyone can renew and stay here because it is pleasant to train and play with these players. All are very important in this team. Even those who do not play and those who don't make the bench. The team is very united, the people who work at the club are also key. They are all very important for us to be working as we are doing on the pitch."