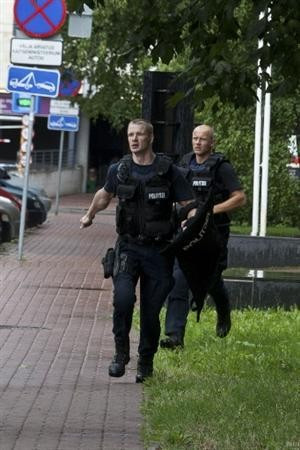 Estonian authorities said they have identified the gunman who attacked the defence ministry headquarters and took hostages on Thursday and died while the two captives escaped uninjured.
It is not clear whether he was killed by police, or committed suicide, as some sources have claimed.
According to Estonian Prime Minister Andrus Ansip, as quoted by skynews, the gunman's name is Karen Drambjan, 57, an Armenian-born lawyer and a member of the marginal left-wing United Left Party.
"This is depressing. It looks like someone has been inspired by the events in Norway," Ansip told the local Delfi news agency, hinting at the July 22 Utoeya shootings and the Oslo bombing in which gunman Anders Behring Breivik killed 77 people.
"The motive of his action remains unclear," Ansip added.
New reports now say Drambjan was at the defence ministry to protests against staff cuts.
Drambjan is also rumoured to be a member of the United Left Party of Estonia, a party defending the interests of part of the Russian minority in the country, according to Estonia's Prosecutor's Office.
Police promptly surrounded and stormed the building, during which operation the attacker was left dead. No one else has been hurt, including the two hostages, who have been safely released.
There is a 25% per cent Russian minority in Estonia, and tension between the two groups have existed for quite some time, with analysts saying that Estonians still hold a feeling of resentment over the previous Russian domination, while the ethnic Russians have complained of discrimination.