EU Bankers' Bonus Cap: Ireland's Michael Noonan Rules Out Renegotiation [VIDEO]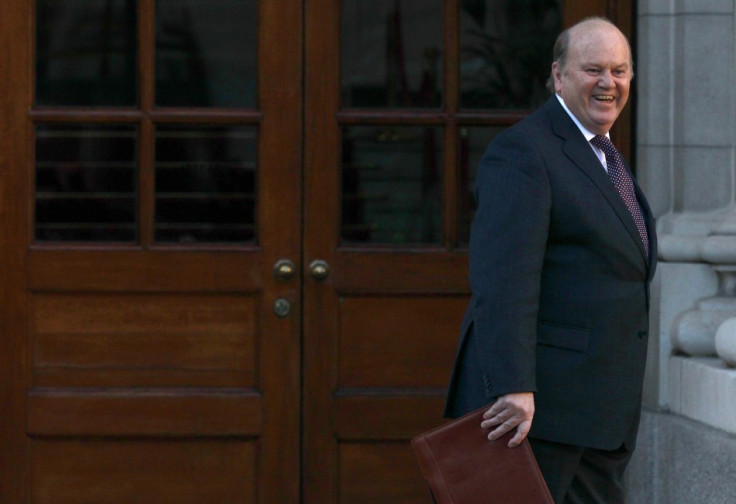 Irish finance minister Michael Noonan is the latest official to rule out the prospect of altering the European Union's plans to cap bankers' bonuses, revealing the scale of the political mountain UK chancellor George Osborne has to climb to stop the proposals going ahead.
Osborne has very little support among other EU member states in his opposition to the cap plans, which would limit the size of a finance professional's bonus to no more than their base salary, though it can grow to as much as double that with shareholder approval.
French finance minister Pierre Moscovici has already said he told Osborne that "these moral rules apply to everyone" and that there would be no renegotiation of the plans.
The UK government is arguing that such a cap would threaten London's status as the global financial centre because bankers may well flee to other cities outside of Europe to escape stringent pay regulations.
"The British authorities have problems with the banker bonus issue. There is very little further we can do for them because we pushed the negotiations to quite a degree and we got the best possible compromise with the parliament. So there isn't any more room left really," Noonan said, according to Reuters, as he entered a meeting of EU finance ministers.
For the plans to become EU law, they need majority backing from the 27 member states, which makes it likely that a bonus cap will be approved.
Critics say that, if bonuses are capped, then base salaries would simply rise.
This would then make it impossible for past pay to be clawed back if poor performance or wrongdoing is exposed later on.
Reducing bonuses is also an easy way for banks to cut costs in harder times without having to lay-off staff, something they would have to do if they were paying out higher base salaries.
Some of Europe's biggest banks are reportedly looking into a legal challenge to the EU bonus cap plans.
Osborne's uphill struggle in the negotiations marks the UK's dwindling influence in the EU following the governing Conservative Party's pledge that, if re-elected in 2015, they will hold an in-out referendum to pacify the country's vocal eurosceptics.
Other European countries question the UK's right to play a leading role in EU decision-making, if it is not certain of its long-term membership.
© Copyright IBTimes 2023. All rights reserved.